Celebrities You Did Not Know Were Kings and Queens of Fertility: Famous Stars with the Most Kids
With Meghan Markle giving birth to Diana Lilibet just recently, we thought of the many celebrities who have also been pregnant lately. Gal Gadot comes to mind and how she carried her baby with grace, a true woman of character. While these two are the most recent of a long list of famous persons who have given birth, there are many more.
In fact, we have quite an extensive list of celebrities with more than two children. Affording to have more than two kids in Hollywood is a challenge because of the time needed to raise a kid. There will be sleepless nights and stressful days because of a crying child. For hands-on moms and dads, that could be pretty harrowing. So you will be surprised that a handful of the people on the list below have given birth to twins! Imagine twice the hardship, but also twice the love.
Dig in and get to know who among your favorite celebrities is worthy of being given credit as the kings and queens of fertility and has proven themselves capable of taking care of more than two kids!
Cristiano Ronaldo – 4
Winning 32 major trophies in his career's life has made Cristiano Ronaldo one of the best athletes of all time. He is among the very exclusive list of players who have made more than 1,100 career appearances and scored 780 official senior career goals for his country and the football club he represents.
Ronaldo is not just a winner in football, but also in terms of family life. Though details of his partners and the parents of his children are sketchy, we know that he bore his eldest, Cristiano Jr., in the US back in 2010. The mother and Ronaldo had a lawyer's agreement stating that he would have full custody. He then fathered two more twins, Eva and Mateo, this time via surrogacy. As with the first, the details of the surrogate mother have not been revealed. Lastly, he has a daughter, with his girlfriend Georgina Rodriquez, a former shop assistant.
Madonna – 6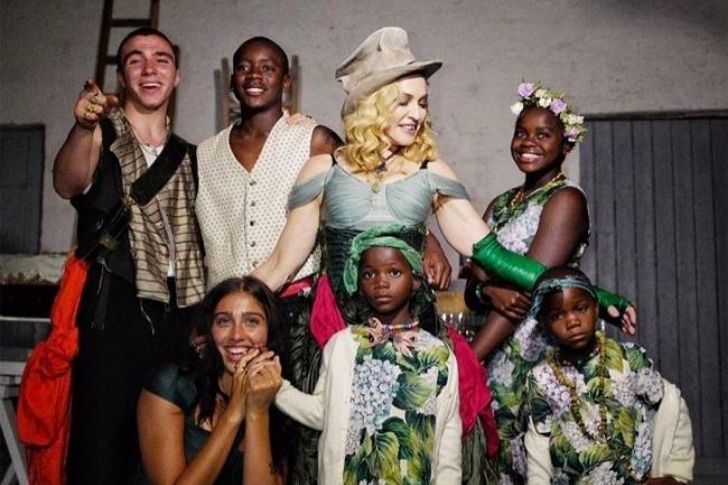 The Queen of Pop, Madonna, is considered one of the most influential icons in popular culture. She is not the queen for nothing, as she has been given credit not just for her melodious songs but also for the constant reinvention of her music. Many have praised her for continually pushing the boundaries of the music industry, with her actions also receiving some criticism.
To her family, Madonna is simply "Mom". Overall, the singer has six children, Lourdes Leon, Rocco Ritchie, David Banda, Estere Ciccone, Stelle Ciccone, and Mercy James. Four of them were adopted, David, Estere, Stelle, and Mercy James. She has two biological children, Lourdes Leon and Rocco Ritchie, who were from two different fathers. With quite a large brood, we can understand why Madonna has kept hustling and work hard to be the best of who she is. As six children look up to her, Madonna is forever inspired.
Eddie Murphy – 10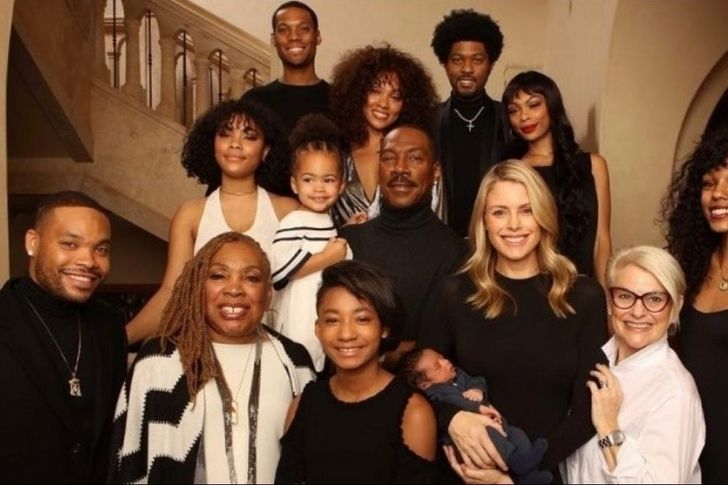 With Saturday Night Live as his training ground, many have expected Eddie Murphy to become successful. They were not disappointed. Since leaving the rest of the crew in 1984, Murphy has engaged in solo and collaborative projects that constantly replenished his coffers. Among the most remarkable works of the actor are The Nutty Professor, Dr. Doolittle, and 48 Hours.
A shocker, but would you believe that Eddie Murphy has ten children? Yes, that is correct. He actually welcomed babies number 9 and 10 with Paige Butcher back in 2016 and 2018. So who are these kids? They are Eric, Bria, Myles, Shayne, Zola, Bella, Christian, Angel, Izzy, and Max. He had them with five women. Also, it looks like every single child has shown a great degree of love for the actor, with many of the children following in his footsteps. Bria, for example, has already appeared on the reality series Hollywood Exes.
Jessica Simpson – 3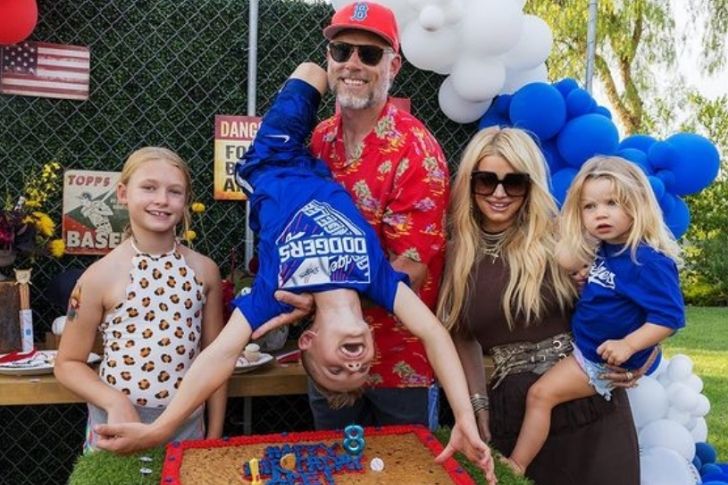 When Jessica Simpson grew older, she took on a more mature image, pivoting away from that sweet-girl image she maintained when starting in the music industry. Nonetheless, she was thankful because fans were all out in terms of support for her though she was only 17 at that time. Her debut album sold two million copies right away. It was the second one where she took a more adult style.
All grown up, Simpson is also now married. The 41-year-old singer, actress, and fashion designer have three children, Ace Knute, Maxwell Drew, and the youngest, is Birdie Mae. Such cute names, right? Simpson is so proud of her children. She usually posts their photos on Instagram. She even revealed that Thanksgiving was somewhat different at the Johnson house—she is married to Eric Johnson—but the kids loved it. Well, we wish for more investments and projects for this couple.
Megan Fox  – 3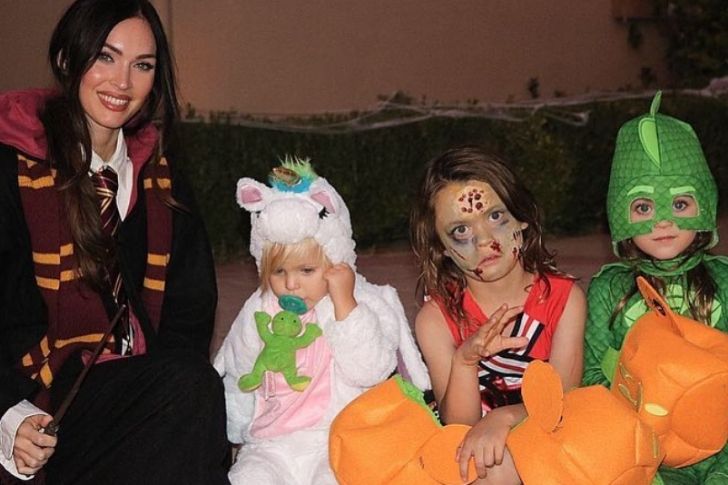 There has not been much exposure for Megan Fox lately, but news sites say that she will star in the drama-comedy Big Gold Brick and Midnight in the Switchgrass soon. Fox has appeared in several high-budget movies and series, including Transformers, New Girl, and Confessions of a Teenage Drama Queen. For sure, her fans are looking forward to seeing their celebrity icon on the screen again.
While we may associate Fox with a girly and innocent image, she is now 35 years old and once married to Brian Austin Green. Their relationship lasted from 2010 to 2020 and produced three lovely kids: Noah Shannon, Journey River, and Bodhi Ranson. Fox probably finds it more urgent to work hard with the couple being separated as she has three kids to feed. For sure, Green would also send child support, but it would be best if Fox also has sufficient investment money on her own.
Ricky Martin – 4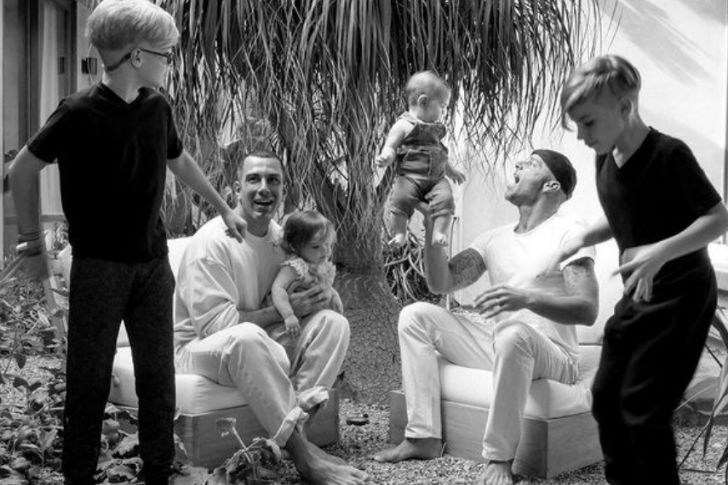 Puerto Rican singer Ricky Martin is popularly known as the King of Latin Pop. He began his career in music at age 12 with the boy band Menudo. After spending five years with the group, the singer started going solo and released several albums that became a hit throughout the 1990s. Martin has sold more than 70 million records worldwide and is regarded as one of the best music video artists.
The singer has also displayed excellent money management skills as he is now worth $120 million, which is more than enough to raise his four kids. He had said numerous times that he loves having a big family, so he and his husband chose to have four children. These children are twin boys Matteo and Valentino, Lucia, and Renn. All four were born via surrogacy. Will we see another Ricky Martin from among his kids?
James Van Der Beek – 5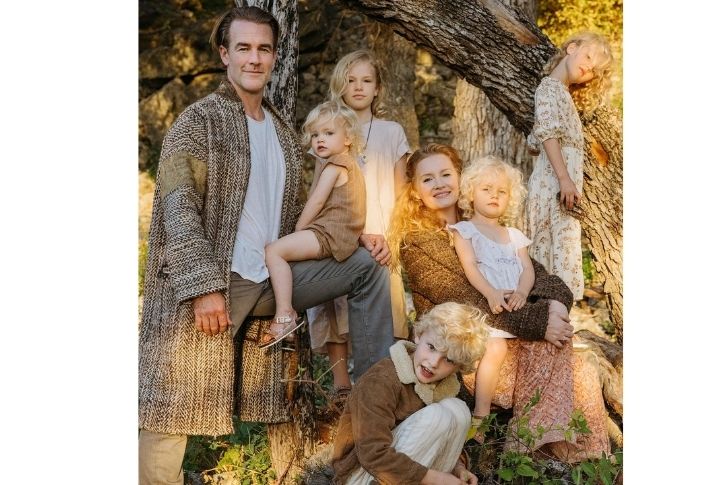 CSI: Cyber's FBI Agent Elijah Mundo, James Van Der Beek, has proven himself to be quite the actor. His rise to fame started with him playing the role of Dawson Leery in the series Dawson's Creek, but he has moved on and matured since then. Van Der Beek has also appeared in Don't Trust the B—- in Apartment 23 and in Varsity Blues. You can also see him on Dancing with the Stars for its 28th season.
He is not just a prolific actor but also a very productive husband. Why? Well, he has five children by his wife, business consultant Kimberly Brook. The children are Olivia, Joshua, Emila, Annabel Leah, and Gwendolyn. Of course, he loves them all equally. They were supposed to have a sixth child, but that sadly did not happen. Perhaps due to the trauma, they contacted the moving company and announced they were moving to Texas, where they would raise their five kids.
Taylor Hanson – 7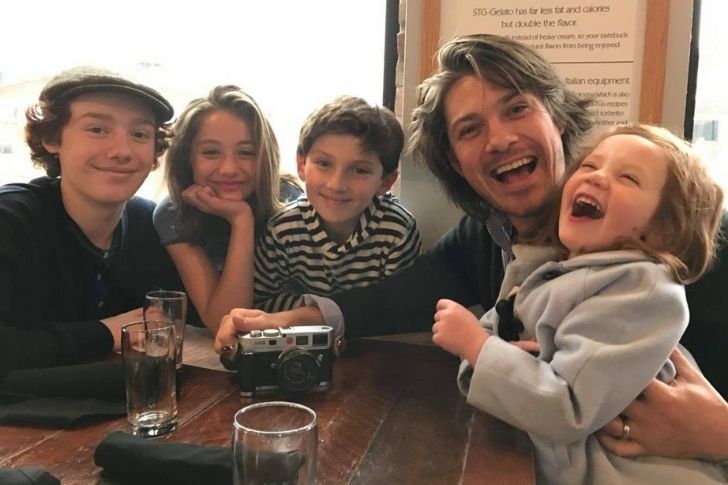 Born in the suburbs of Tulsa, Oklahoma, Taylor Hanson has gone a long way from home and is now a significant member of the band Hanson. He and two other brothers formed this band in 1992. They initially named it The Hanson Brothers, similar to Jonas Brothers, but later simplified it to Hanson. In 2009, however, Hanson and other new members formed a new band they called Tinted Windows, with the first album released the same year. Years later, they are set to have a reunion soon.
While still with the band, Hanson met and fell in love with Natalie Anne Bryant. We are not sure if they were planning on forming a basketball team, but they now have seven children together, Jordan Ezra, Wilhelmina Jane, Penelope Anne, Claude Indiana Emmanuel, River Samuel, Viggo Moriah, and the youngest, Maybellene Alma Joy. Well, they better be prepared to pay the mortgage for a bigger house as they will need one!
Tori Spelling – 5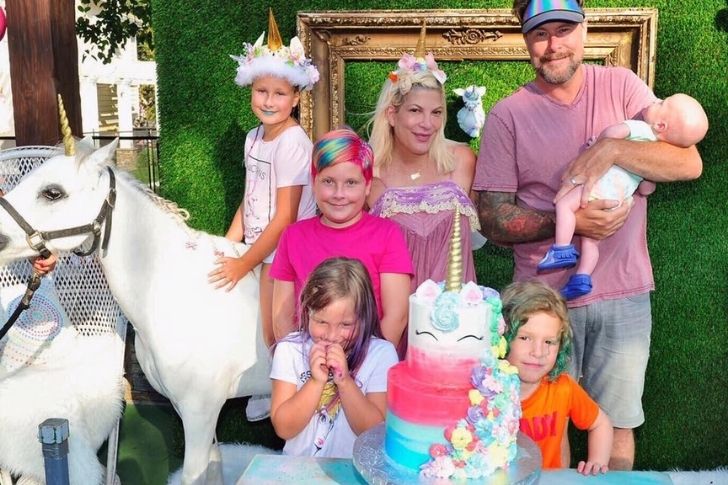 Supposed to be an heiress to the multimillion net worth of her father, Tori Spelling only got less than a million due to what her mother perceived as habits of reckless spending. To some extent, this was true, but looking at her film credits, she also worked very hard. Some of the movies she appeared in are Trick, Kiss the Bride, and Izzie's Way Home. She also wrote an autobiography, Stori Telling, which was praised as among the best celebrity autobiographies.
Spelling has quite a colorful love life because she met the father of her future children while she was in a relationship with another man, and while Dean McDermott was also still married to Mary Jo Eustace. Due to this, her then-husband,  Charlie Shanian, had the attorneys process a separation. Spelling and McDermott had five children together, namely Stella Doreen, Hattie Margaret, Lian Aaron, Beau Dean, and Finn Davey.
Snooki – 3
Reality TV personality Snooki is best given credit for being a cast member of the reality show Jersey Shore. She also had a starring role in Jersey Shore: Family Vacation and Snooki & Jwoww. Since appearing on these projects, Snooki had gained popularity. It was quite a risk for the Jersey Shore production team to pay her $150,000 per episode that time, considering she was not that famous yet. That aside, it looks like the decision paid off.
Like most celebrities, Snooki found love in Hollywood, in Jionni LaValle. Fans were quite surprised how these two ended up together, but we suppose that is how love works. The two tied the knot in 2014 and now have three children together, Giovanna Marie, Lorenzo Dominic, and Angelo James. Aside from being a mom, Snooki has been keeping herself busy managing her two Snooki Shop branches located in New York and New Jersey. After all, she has to save up for the kids' future!
Mark-Paul Gosselaar – 4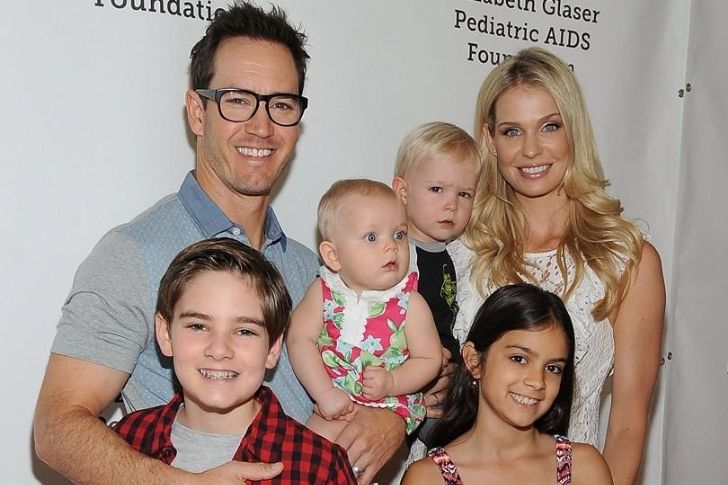 In 1991, Mark-Paul Gosselaar became the winner of the Young Artist Award for Best Young Actor Starring in an Off-Primetime Series. This was for his performance as Zack Morris in Saved by the Bell. He also has other well-praised roles, including The Passage, NYPD Blue, and Franklin and Bash. As you have gathered by now, Gosselaar is more of a TV man, but he also has movie projects, like Heist and Precious Cargo.
The actor has four children, with two of them, Michael Charles and Ava Lorenn, born of a previous marriage. Meanwhile, his two other children, Dekker Edward and Lachlyn Hope were with his current wife, advertising executive Catriona McGinn. If you wonder what the kids like doing, it would not be a surprise to discover that they like Legoland and other theme parks.  Also, it looks like Gosselaar wanted more children, so we would see him giving a degree more effort to having some more!
Sean Combs (P. Diddy) – 6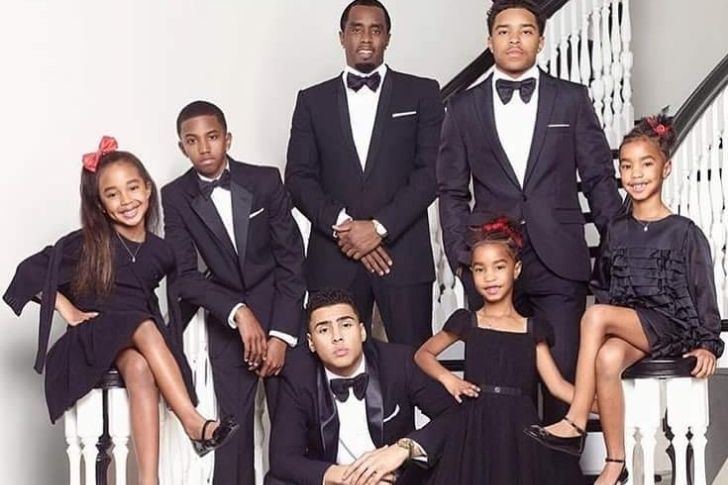 Rapper and entrepreneur Sean Combs is known by many names, with P. Diddy being one of them. Several big names in the music industry today owe their success to the guidance of P. Diddy. Usher, Mary J. Blige, and The Notorious B.I.G. are just some of the celebrities he took under his wing and nurtured. As an artist, he also has been successful with the rapper releasing albums since 1997.
P. Diddy most likely considers the rappers under his care like his children, but he is also a biological father to six children: Quincy, Justin Dior, King, Chance, D'Lila Star, and Jessie James. He is known to spoil his children as well. As an example, P. Diddy gave Justin, who celebrated his 16th birthday in 2010, a car worth $360,000. We would not be surprised if he would also take care of the maintenance and insurancecosts, given his love for the kids.
Offset – 4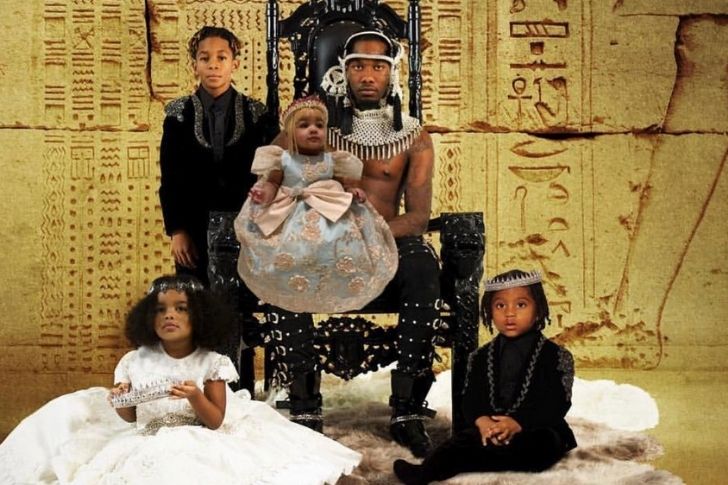 A member of the hip hop trio Migos, American rapper, and songwriter Offset or Kiari Kendrell Cephus has also released several solo music albums. His first platinum single, "Ric Flair Drip", was part of his album Without Warning. He has also collaborated with several artists, like Drake. Offset has also appeared in an episode of the series Atlanta and has starred in a number of campaigns for brands like Lavati, Bryce Barnes, and Gosha Rubchinskiy.
One of his albums, 4, is titled because he has four children: Kulture Klari Cephus, Jordan Cepheus, Kody Cepheus, and Kalea Marie Cepheus. Isn't that sweet? Shortly after dating fellow rapper Cardi B in 2017, the two got married. The following year, Cardi B revealed that they were expecting their first child. The two later parted ways, with lawyers initializing the process, but then the news came out that they got back, which was good news!
Future – 8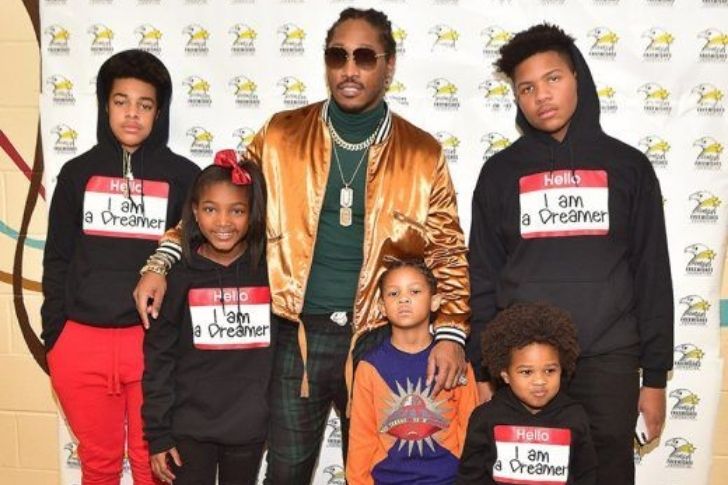 More often than not, artists use a stage persona whenever they are under the spotlight. Well, such is the case for one of rap's well-known artists, Future. Outside the music industry, Future is known to friends and family as Nayvadius DeMun Wilburn. During his earlier years in the industry, he developed his stage name when he performed for a musical group named The Dungeon Family.
Future eventually established himself as a solo artist. After releasing a couple of mixtapes, the rapper garnered a skyrocketing degree of recognition after releasing his very own albums, notably his debut, 2012's Pluto, and 2014's Honest. Outside the spotlight, however, Future is known for a different reason. For starters, he is now a father of eight kids, with the youngest born back in 2019. With the fame and fortune he's garnered through the years, though, it's safe to say this rapper has more than enough to provide for his children's future.
Robbie Williams – 4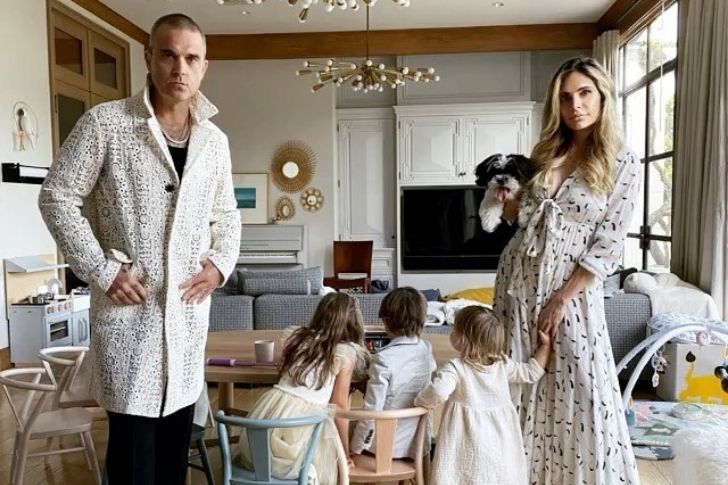 Before making his way to the spotlight, Robbie Williams spent a good portion of his years in school performing in stage plays. One acting credit was for Oliver, an adaptation of the Oliver Twist novel. By the time he was in his teens, Robbie had got his first shot to fame as a member of the famous pop group Take That. While he is still part of Take That, the singer has also made a name for himself as a solo artist, releasing hit albums like Life thru a Lens and Rudebox.
Besides gracing record studios and concert venues, Robbie is also a loving father. With his wife, actress Ayda Field, the singer is a parent of four kids, Theodora Rose, Charlton Valentine, Colette Josephine, and their youngest, Beau Benedict Enthoven. While these adorable kiddos don't have any professional careers just yet, it sure looks like they're already gaining popularity on social media, notably Instagram.
Duane Chapman – 12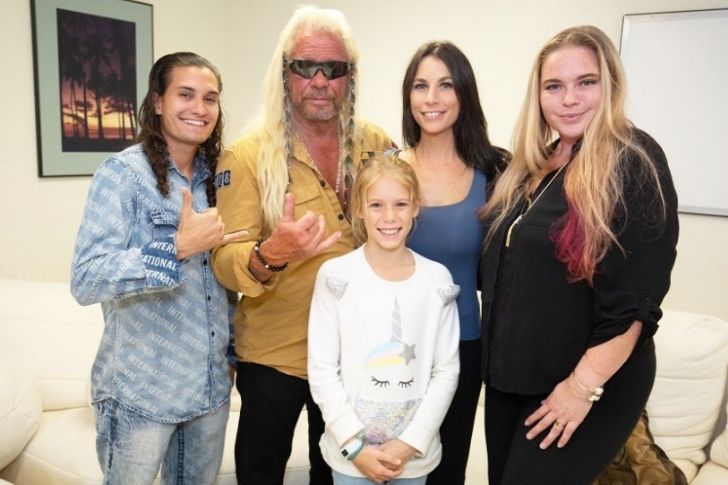 Most of the time, life has an interesting way of introducing things to us. Well, the same could also be said for Duane Chapman, who had gone through a couple of rocky years during his teens. However, it was also during that period that he found his desired career of choice.
Since then, producers have spent a significant portion of investment money bringing Duane to the reality TV scene. Thanks to their efforts, he has had the chance to work on shows like Dog the Bounty Hunter, Dog's Most Wanted, and Dog's Unleashed. Besides his professional life, Duane is also a father of  12 kids. This includes his two sons, Duane Lee and Leland Blane, who have since found a living as bail bondsmen. Besides appearing on TV, Papa Duane and his family are also fond of providing updates on their social media accounts.
Lauryn Hill – 6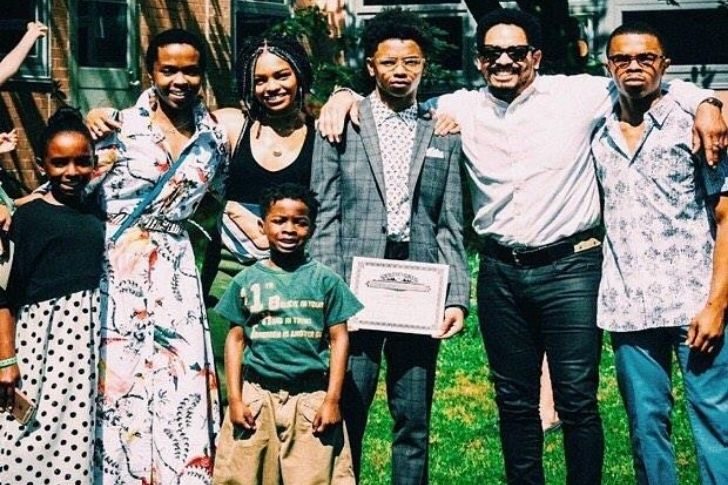 Throughout her childhood, Lauryn Hill was surrounded by music. Along with her mother playing the piano and her father singing at weddings and clubs, Lauryn also listened to more than a few records. A few notable artists she credits as her inspirations include Aretha Franklin, Stevie Wonder, and Marvin Gaye. Since then, besides gaining fame as a member of Fugees, Lauryn also garnered widespread for her 1998 solo album The Miseducation of Lauryn Hill, one of music's best-selling albums.
Despite her fame, fans were still surprised after discovering the singer was also a mother. With her ex-partner Rohan Marley, Lauryn has six kids. Her eldest, son Zion David, was born in 1997 – the singer dedicated an entire album for him. Meanwhile, her youngest, son Micah, was born in 2011. While they continue to live a relatively low-key lifestyle, this family – especially the kids – enjoy posting a couple of their photos on social media.
DMX – 15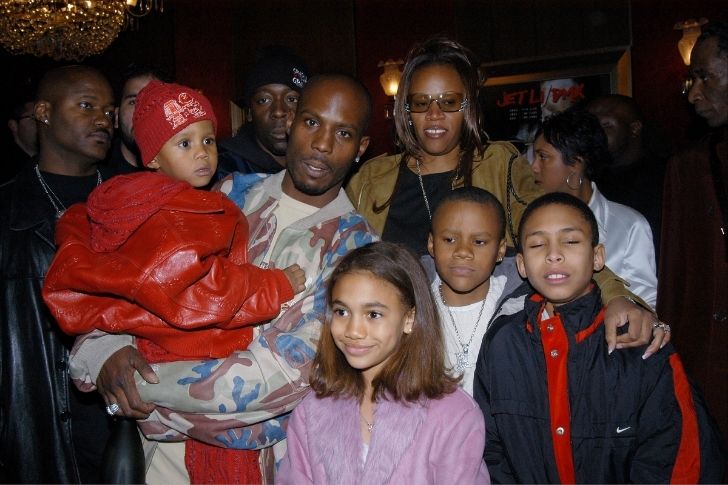 While his childhood years were anything but smooth sailing, it was his love for hip-hop music that kept him going. Born Earl Simmons, the rapper got his stage name from the Oberheim DMX drum machine, one of the instruments he used. Since then, DMX has become most known for working on hit records like Where the Hood At, X Gon' Give It to Ya, and films such as Last Hour and Cradle 2 the Grave.
Although he undoubtedly has numerous fans that support him, it's safe to say that his family has an even higher degree of love for the rapper. With that said, the late actor/songwriter's legacy lives on through his 15 kids. As seen on their social media posts, DMX enjoys being with them – and that feeling is indeed reciprocated. To top it off, his son Tacoma Simmons and daughter Sonovah Junior are already following in his musically-inclined footsteps.
Carson Daly – 4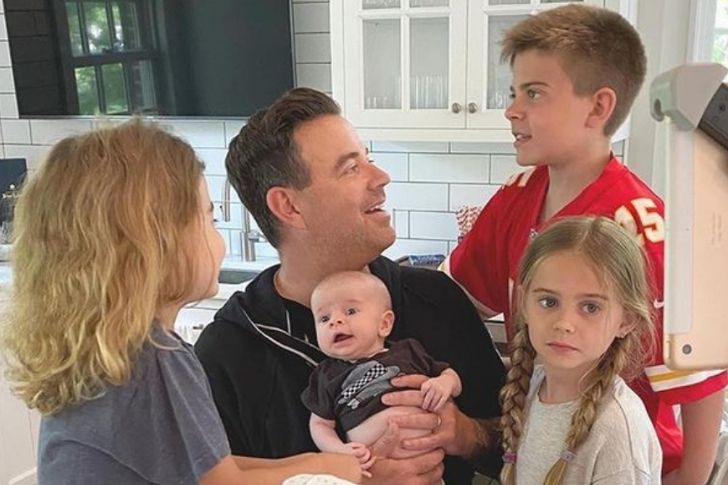 While he's also a talented golfer, Carson Daly is undoubtedly most known for his investments in show business. Beginning his career hosting for radio shows, Carson eventually made his way to more TV programs, with a couple of his earlier stints being on MTV. Nowadays, though, he has found a more significant role for shows like The Voice and Today.
Meanwhile, outside the industry's shining lights, Carson enjoys spending quality time with his family. With his wife, Siri Pinter, the Today social media correspondent, he is a loving father of four kids, with the youngest born back in 2020. Like many of us, Carson and Siri enjoy posting photos on social media, especially on their Instagram pages. Among their many wholesome pictures together, though, one post worth noting would be the welcome-home banner the kids made for their sister London. Safe to say, they'll all grow up to be very supportive of each other.
Kris Jenner – 6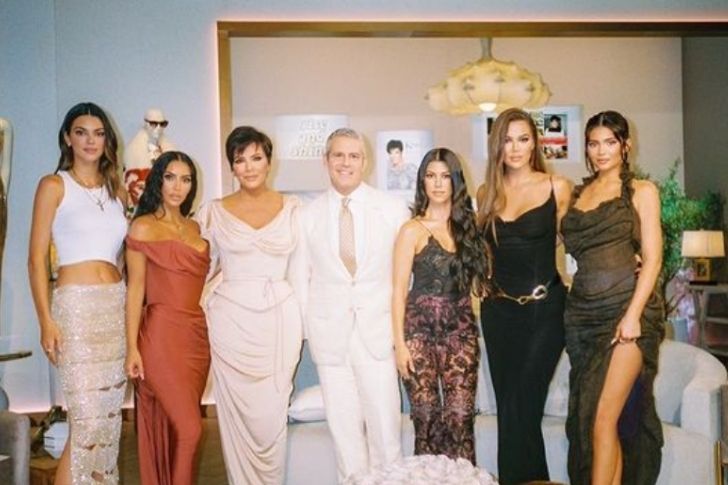 As the name suggests, the entertainment industry is made for entertaining audiences. Through the years, an impressive amount of investment money has been spent on creating various programs. With that said, besides scripted, narrative-driven movies and shows, another notable example would be reality TV.
At this point, there are many reality shows to choose from. However, the most recognized one among them would arguably be Keeping Up with the Kardashians, a series revolving around the now-famous Kardashian-Jenner family. It is led by Kris Jenner, the mother and manager of her six kids: Kourtney, Kim, Kendall, Kylie, Khloe, and Rob. Along with becoming well-known figures in show business, this family is also regarded for their endeavors in the fashion scene, with Kris launching her very own eponymous clothing line back in 2011. She has also tried her hand in writing, with one of her works being a cookbook titled In the Kitchen with Kris.
Alec Baldwin – 7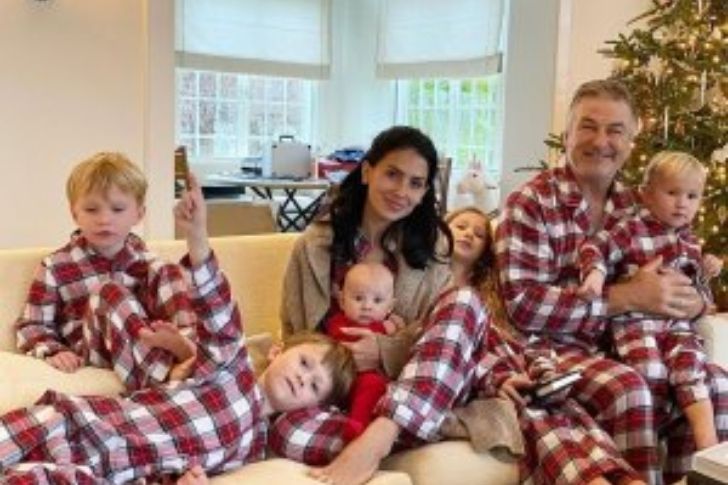 Like many of his colleagues, Alec Baldwin spent plenty of time preparing for his career under the spotlight. While studying for his Bachelor of Fine Arts degree at New York University's Tisch School of the Arts, Alec already landed his first few gigs as a stage actor. Nowadays, though, he's most known for his work on TV and films, starring in notable titles like the new Mission: Impossible movies, The Hunt for Red October, and Saturday Night Live.
While he may be recognized by many as an actor, Alec is – above all else – a loving father for his family of seven kids. His eldest, daughter Ireland, has already made her way to the acting and modeling business. Meanwhile, his younger six, Carmen Gabriela, Rafael Thomas, Leonardo, Romeo Alejandro, Eduardo, and Lucia, are yet to make their way to the entertainment industry. Even so, it sure looks like these adorable kiddos are already developing a fan base on Instagram.
Elon Musk – 6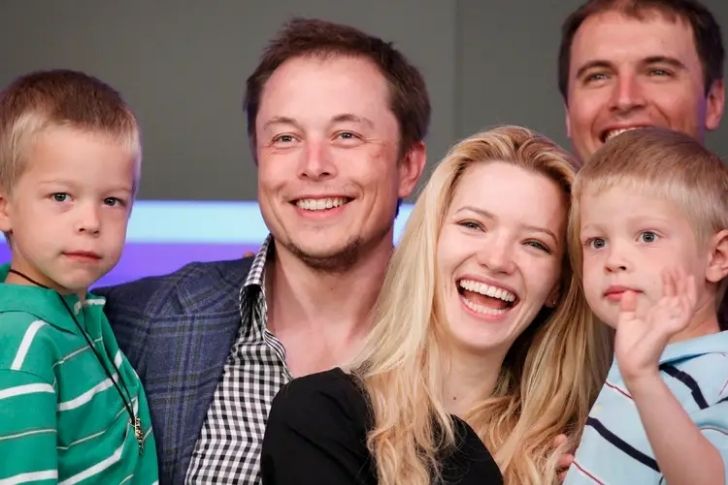 Although he's been a well-known figure for years now, it sure looks like Elon Musk has made quite a name for himself recently. Born on June 28, 1971, Musk's first notable investment was a web software company called Zip2, followed by X.com, which eventually became PayPal. Since then, the entrepreneur has been acknowledged for his contributions to companies such as Tesla and SpaceX, both of which he also founded.
When he isn't busy working on improving the next Tesla car or finding ways to make space travel more convenient for people, Musk spends most of his off-time with his family. Despite him and his partner, singer Grimes, being well-known figures in the industry, not much is known about his six kids. Even so, there's still one thing many of us could agree on: their youngest son, X Æ A-Xii, sure has a unique name.
Rod Stewart  – 8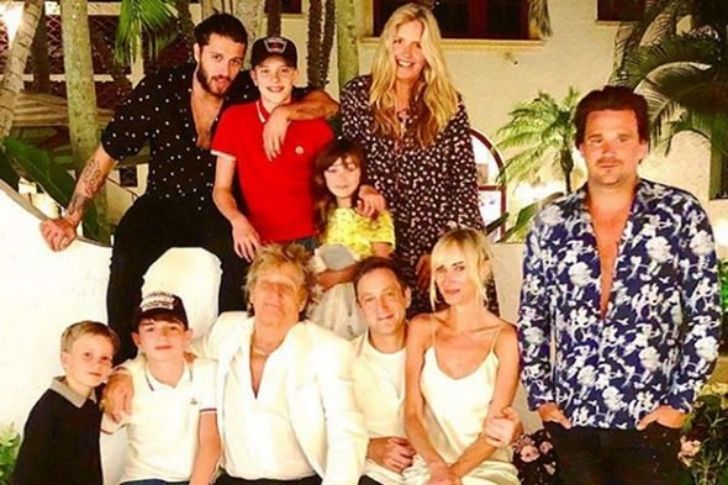 A dream usually originates from a source of inspiration. Well, for Rod Stewart  and his journey into the world of music, a good portion of the credit would go to childhood idols such as Eddie Cochran and Little Richard. Along with gaining recognition for his signature singing voice, the Maggi May singer has since become one of the industry's best-selling artists, having sold more than a hundred million records worldwide.
While he may have received several awards and landed a spot in the US Rock and Roll and UK Music Hall of Fame, Rod is undoubtedly at his happiest whenever he's with his kids. A proud father of eight, two of his children, son Sean Roderick, and daughter Ruby, are already following in his musically inclined footsteps. Meanwhile, his daughter Renée works in the fashion scene, and his son Liam is now a professional hockey player. They may have different careers, but rest assured, Papa Rod is always there to support them.
Shaquille O'Neal – 6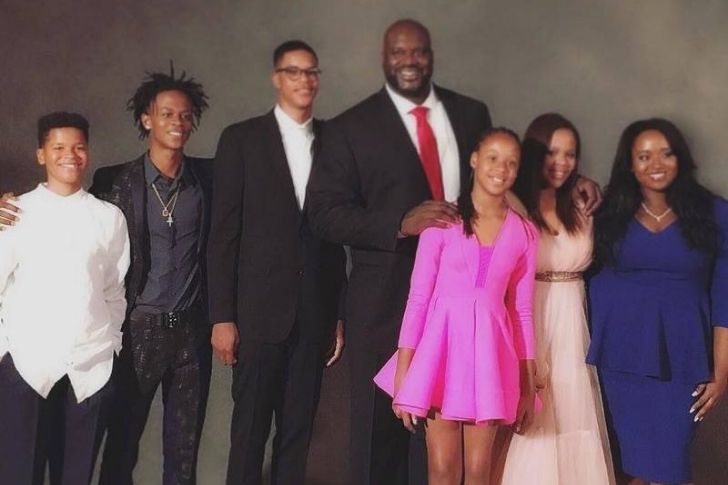 When talking about basketball's greatest players, it would be a disservice not to acknowledge Shaquille O'Neal . Born on March 6, 1972, Shaq began his journey into the sport during his years in school. While his earlier stints were far from smooth sailing, the at-the-time aspiring basketballer pushed through in the end. Since then, he has garnered a high degree of praise from colleagues and fans, ultimately earning him a spot as one of the sport's greatest.
The DJ/sports analyst is also a father of six kids, daughters Taahirah, Amirah, Me'arah Sanaa, and sons Myles, Shareef, and Shaqir. Although Taahirah prefers to be away from the spotlight, she is most known for philanthropic endeavors. Meanwhile, her younger siblings seem to be following in Papa Shaq's footsteps. Me'arah Sanaa, Amirah, Shareef, and Shaqir are now basketballers, playing for their respective school's team. Meanwhile, Myles is more into music, so it's no surprise that he's already landed a couple of DJ gigs.
Jude Law – 6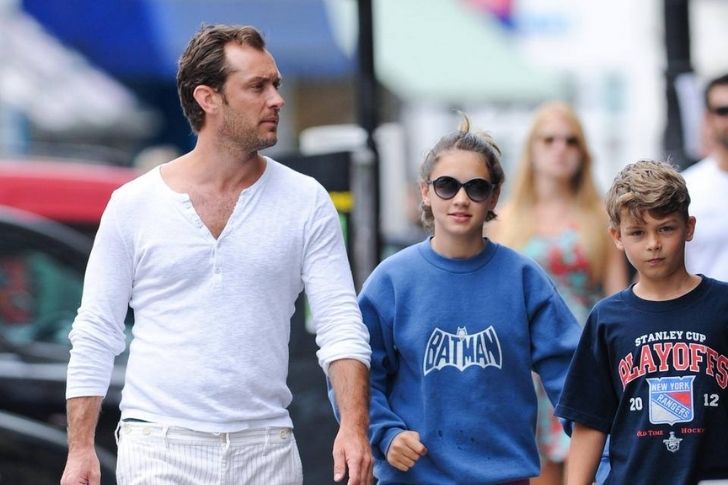 Born on December 29, 1972, Jude Law landed his first acting gig when he was still a teen. Throughout that period, he gained recognition for his work on stage for productions like The Ragged Child and Les Parents terribles. A few years later, Jude found his way to more on-screen parts. Well, thanks to that, the actor has since become most-known for his performance in Road to Perdition, Fantastic Beasts: The Crimes of Grindelwald, and the Sherlock Holmes movies.
Although he has undoubtedly made plenty of investments in his professional career over the years, the actor still manages to save precious time for his family. The Contagion star is now a father of six kids, with the youngest child born last 2020. While not much is still known about the younger trio, Jude's older three, daughter Iris, and sons Rafferty and Rudy, have already found themselves a spot in the entertainment industry as actors and models.
Cate Blanchett – 4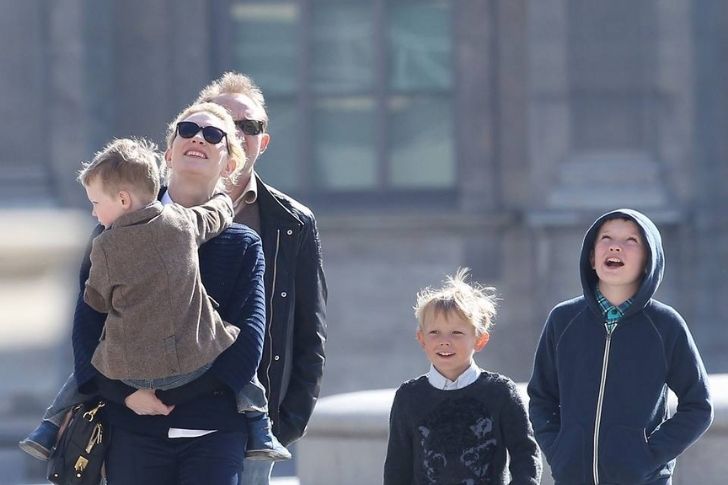 While many of the actors we look up to are often associated with a specific character archetype, like a heroic protagonist or a sinister antagonist, the entertainment industry also has more than its fair share of versatile stars. Among them would undoubtedly be Cate Blanchett. Beginning her career as a stage actress, Cate has since garnered widespread recognition for her acting credit in The Lord of the Rings films, The Curious Case of Benjamin Button, and Thor: Ragnarok.
She may be busy working on an upcoming film or stage play, but that doesn't mean the Ocean's 8 star no longer has time for family. With her husband, playwright Andrew Upton, Cate is now a mother of four kids: sons Dashiell John, Roman Robert, Ignatius Martin, and daughter Edith Vivian Patricia. Along with the children accompanying Mama Cate on red-carpet events, the actress' eldest son Dashiell is reportedly following in her footsteps. In fact, he's said to start going to film school soon.
Vin Diesel – 3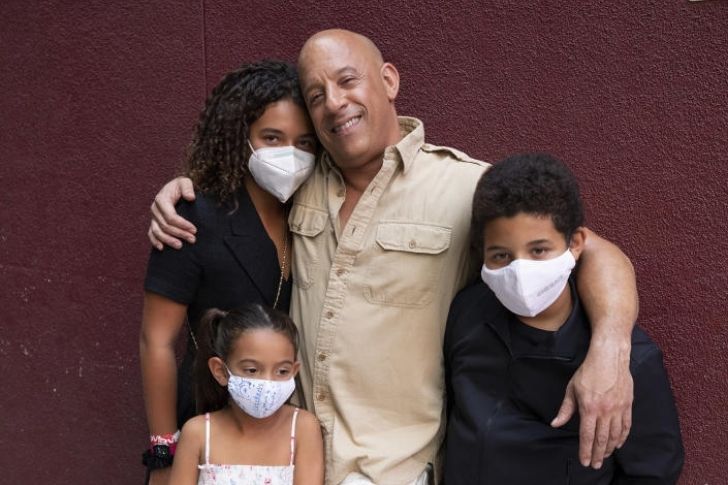 If you frequent the internet, then perhaps it's safe to assume you've seen your fair share of memes already. With humorous posts spreading throughout the online domain, memes can be made of just about anything. A notable example would be Fast and Furious' Dominic Toretto, famously portrayed by Vin Diesel, talking about the power of family.
While the actor has recently found internet fame for his gas-pedal-stomping character's strong belief in the power of family, Diesel is also a happy father in real life. With his partner Paloma Jimenez, the Pacifier star now has three kids, daughters Hania Riley and Pauline and son Vincent. While they may still be enjoying their childhood, the older two, Hania and Vincent, are already making their way to the acting business. Hopefully, Pauline will follow suit. That way, we might have a movie with the actor and his kids together.
Dwayne Johnson – 3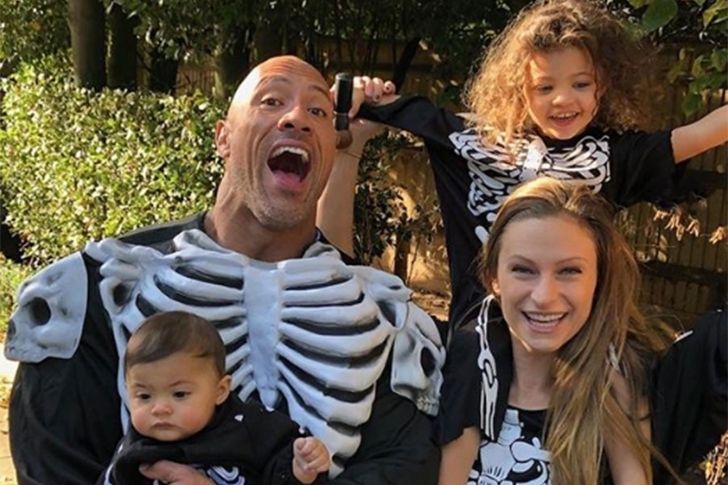 Another star who garnered a skyrocketing degree of recognition for his on-screen performance in the Fast and Furious movies, Dwayne Johnson, began his career under the spotlight as a wrestler. A few years later, though, he found his way to the acting scene, with one of his earlier roles being as the titular hero in 2002's The Scorpion King. Since then, Johnson has made an even bigger name for himself with roles in projects like Tooth Fairy, Central Intelligence, and the new Jumanji movies.
Like his Fast and Furious co-star Vin Diesel, the Hobbes and Shaw actor is a loving father of three kids, Simone Alexandra, Jasmine, and Tiana Gia. Simone is slowly following in Papa Johnson's footsteps. She recently signed a deal with WWE. Other than that, not much is known about the actor's kids, but the family does enjoy posting photos on their social media accounts.
Donnie Osmond – 5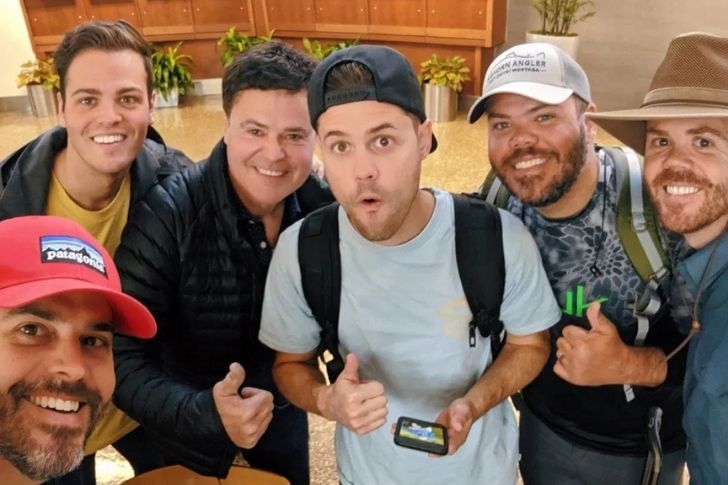 Donnie Osmond is a well-known American actor, singer, dancer, and former teen idol. Interestingly, this former teen superstar managed to have quite a big family of his own. It looks like Donnie has to deal with a ton of kids around the house as he's got five kids of his own. Moreover, it'll be interesting to learn how he manages the entire Osmond household because his sibling, Marie Osmond, has eight kids herself.
It definitely looks like the Osmond family are incredibly knowledgeable to have a ton of kids around the house. You could say that the Osmond family music group are well on their way to become an Osmond family choir! Needless to say, it looks like Donnie and Marie made a decent fortune during their heyday, and it seems like they won't need any money loan to pay for their kids' needs.
Kevin James – 4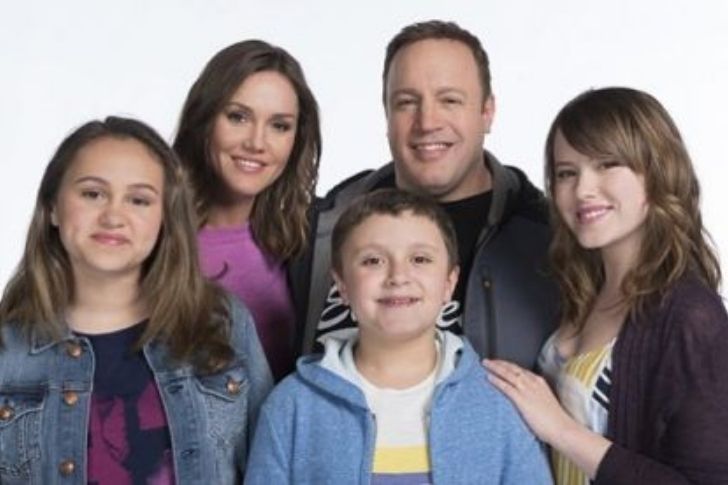 Kevin James is a well-known American actor and comedian. Whenever he's not busy filming on the set of his next film, he usually spends his downtime together with his four kids. That's right, the comedian has four kids, and you could say that their household is incredibly lively with all the kids running around. He certainly deserves credit as he plays an active role in the upbringing of his four kids despite his busy schedule as an actor.
Saying that James is thrilled and proud of his four kids would be an understatement. In a 2017 interview, he also shared that fatherhood gets easier after the first child. Now that James and his partner are on their fourth child, you could make the case that he'll need to pick up a second job as a mall cop. However, a second job won't be necessary as he has a surmountable net worth of $100 million that'll allow him to pay for whatever his kids need.
Kevin Costner – 7
 Kevin Costner is an award-winning actor whose acting career spans several decades. He's been happily married to his wife, Christine Baumgartner, since 2004, and the couple has been able to welcome three children. However, Kevin is not just a father of three kids; but he has children. Kevin's other four kids came from other women before he was engaged with Christine.
Today, Costner is now 65 and is a doting father to seven children: Annie, Lily, Joe, Liam, Hayes, Cayden, and Grace. He certainly deserves credit as he made it clear that his principal and biggest priority was raising his kids. He was indeed able to raise his kids to be fine men and women, all while continuing his career as an actor. You could say that Kevin Costner is not just an excellent actor but also a dedicated family man.
Mike Tyson – 7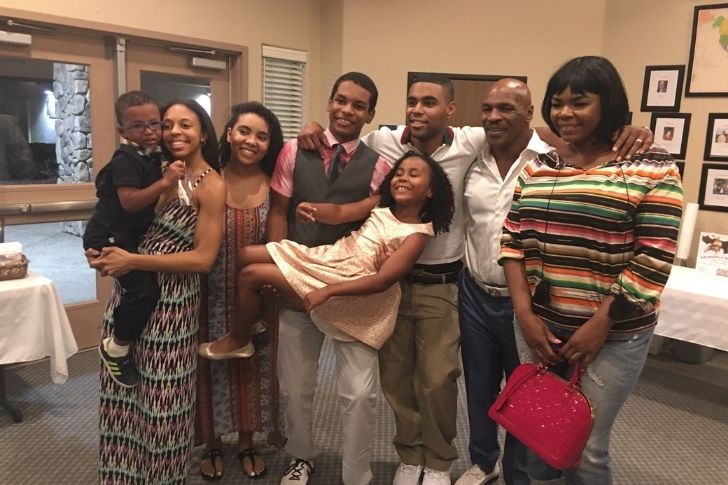 It's safe to assume that Mike Tyson is included in the conversation for the greatest boxer in history. However, who would've known that this formerly dominant heavyweight champion of the world was a doting father to a whopping seven kids? He's often spotted with his daughters, Mikey, Milan, and his wife, Kiki Tyson. The couple also has a son named Morocco Tyson.
Besides Mike's three kids with Kiki Tyson, he also has two kids from his third marriage. In addition, Mike also has two children from previous relationships. It's definitely impressive how he was able to dominate the sport while playing the role of a full-time dad at the same time. Many of Mike's kids are now adults and now have their own careers. You could say that Mike deserves credit for raising his children the best way that he can.
Brad Pitt – 6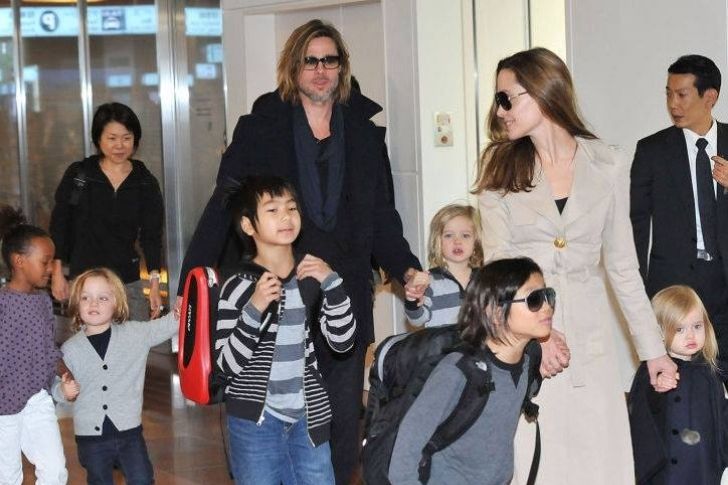 Brad Pitt and Angelina Jolie are unquestionably two of the most recognizable celebrities in Hollywood today. Brad and Angelina's six kids are Maddox, Pax, Zahara, Shiloh, Vivienne, and Knox. You could say that this star couple has quite a huge family! In turn, they cause chaos wherever they go, and interestingly, they're often spotted with their six kids.
Among the six, Maddox, Pax, and Zahara came from orphanages in Ethiopia, Vietnam, and Cambodia. On the other hand, Shiloh, Vivienne, and Knox are Brad and Angelina's biological children. Regardless of their backgrounds, the star couple deserves credit as they make sure that they don't play any favoritism among their children. When attending various red carpet events, all of their six children are always in attendance. You could say that it's only one of the perks that come with being a child of celebrities like Brad Pitt and Angelina Jolie.
Natalia Vodianova – 5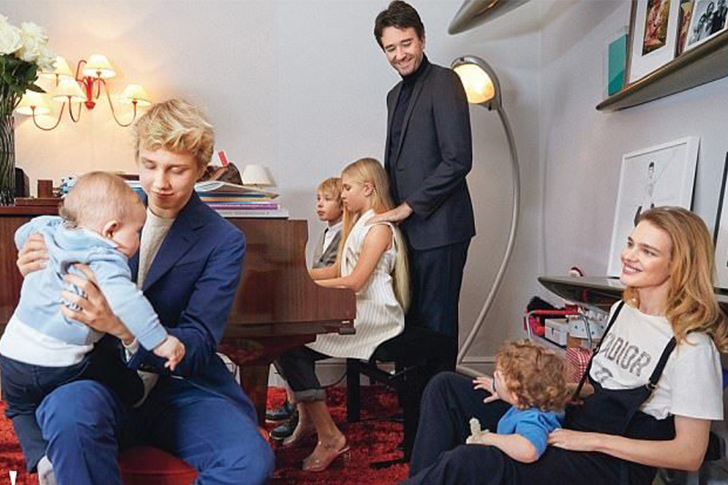 Natalia Vodianova is a Russian supermodel who has been dubbed Supernova. Her rise to the top of the fashion industry brought about much lucrative success to her name that she was given credit for being one of the highest-paid models by Forbes. Apart from her fashion career, Vodianova is a distinguished humanitarian and is a United Nations Goodwill Ambassador. Moreover, she is the founder of the philanthropic organization Naked Heart Foundation, whose efforts go to helping special needs children and their families.
Through the supermodel's time in the limelight, she has been married twice. Her first marriage to Justin Portman would result in the birth to her eldest son, Lucas, at the age of 19. She would have two more children with Portman: Viktor and Neva. However, the couple separated in 2011. It wouldn't be until 2020 that she would remarry to Antoine Arnault. Together, they have two children, Maxim and Roman.
Ice Cube – 4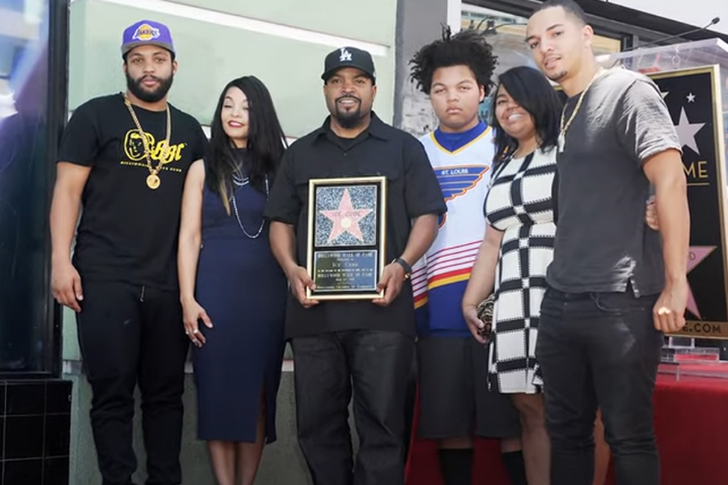 Ice Cube rose to fame back in the early 1990s as one of the revolutionaries of hip hop. Since then, he has established an empire to his name having multiple investments in the music and film as well as in the sports industry. However, as they say, behind every great man is a great woman. He journeyed in the entertainment industry along with his long-time wife Kimberly Woodruff ever since they first met back in 1988. It was love at first sight for the rapper. However, it would take six months before Kimberly gave him a chance. They began dating for the following years and would eventually get married in 1992.
Ice Cube and Kimberly have five children together: O'Shea Jackson Jr., Shareef Jackson, Karima Jackson, Deja Jackson, and Darell Jackson. Most notable amongst them would probably be O'Shea, who starred in the 2015 biopic Straight Outta Compton, playing the role of his father.
Hugh Jackman – 2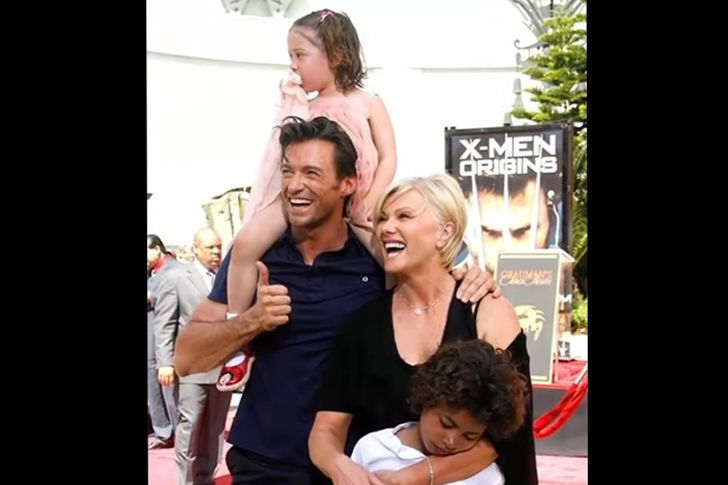 Hugh Jackman is an all-around entertainer. He is a prolific actor with a background in theater and is also a talented singer. His years in the industry have brought about a degree of commercial success that any aspiring actor can only dream of. He has won a Tony Award and an Emmy Award among other esteemed accolades. However, no awards could make the Australian actor happier than the happiness and fulfillment he gets from his family.
Jackman has been married to fellow Deborra-Lee Furness since 1996 and together they have two children. He officially entered fatherhood back in 2000 when they adopted Oscar. Five years later, they welcomed a lovely addition to their family when they adopted their daughter Ava. Jackman considers being a father a full-time thing and showers his children with the attention they deserve. He and his wife went through several struggles with fertility, leading to them opting for adoption. They truly consider their two children the greatest blessing of their lives.
Marc Anthony – 6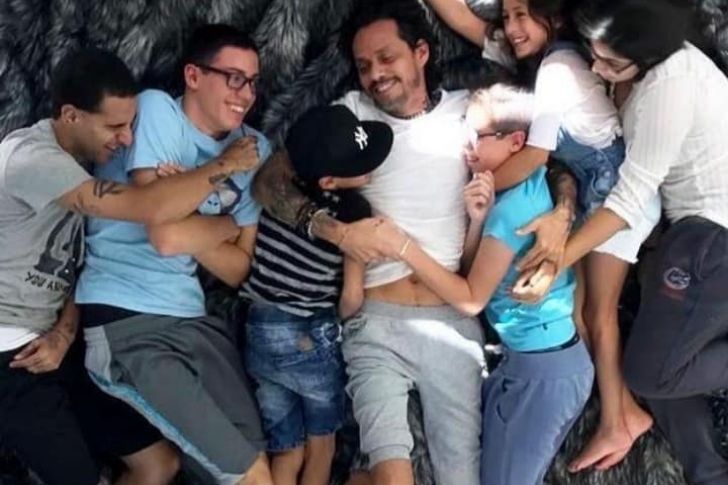 Marc Anthony is a well-known American singer and an incredibly successful songwriter, actor, producer, and record executive. Throughout his career, he's achieved success in all the platforms that he ventured into. It's definitely amazing how he remained successful despite attending and being a full-time dad to all of his six children! Interestingly, he's also a full-time father of six adorable kids.
It's no secret that Marc Anthony adores all of his six mini me's. He's also managed to bring all of his kids to a variety of events throughout the years. Marc Anthony makes it a point to spend time with his kids whenever he can, and it helps that his kids understand his busy schedule. All six of Marc's children certainly have a bright future ahead of them regardless if they choose to follow in his footsteps in entertainment or secure their degrees and education.
Ines Gomez Mont – 4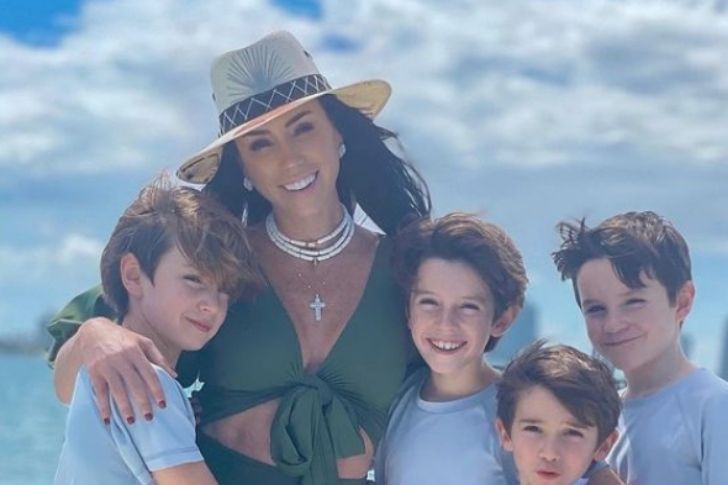 Ines Gomez Mont is an established Mexican television host, journalist, and model. She's best known for hosting TV Azteca's Los 25+ and for co-hosting the television show Ventaneando. Besides a successful television career, Gomez Mont is also known for her relationships with former husband Javier Diaz and current husband, Victor Alvarez Puga. Among her two marriages, Ines Gomez Mont welcomed four adorable children.
Ines Gomez Mont has four kids, Inesita, Diego, Bruno, and Javier. Fans often catch glimpses of Inez's four kids, as she makes it a point to post adorable photos of them on her various social media accounts. It's safe to assume that all of Ines Gomez Mont's kids have a pretty bright future ahead of them. Considering that their mother is incredibly popular, they surely won't ever have to worry about any student loans when they grow up.
Jacqueline Bracamontes – 5
Jacqueline Bracamontes is a well-known Mexican actress. She is a former model, and she represented her country in various beauty pageants during the early 2000s. Today, Jacqueline is now 41 years old and is a doting mother of five adorable kids. She shares all five of her children with her husband, Martin Fuentes, and all of them are girls.
Whenever Jacqueline isn't hosting her renowned television shows, she makes it a point to spend quality time with all five of her little princesses. This family of seven likes to go on vacation in different places and enjoy each other's company. Their most recent trip was at Walt Disney World Resort, and you could tell that their five daughters: Jacqueline, Renata, Carolina, Emilia, and Paula, were having the best time of their lives. Considering that she's pretty successful, we're confident that Jacqueline didn't need to take out any personal loan to pay for their travel bill.
Bibi Gaytan – 5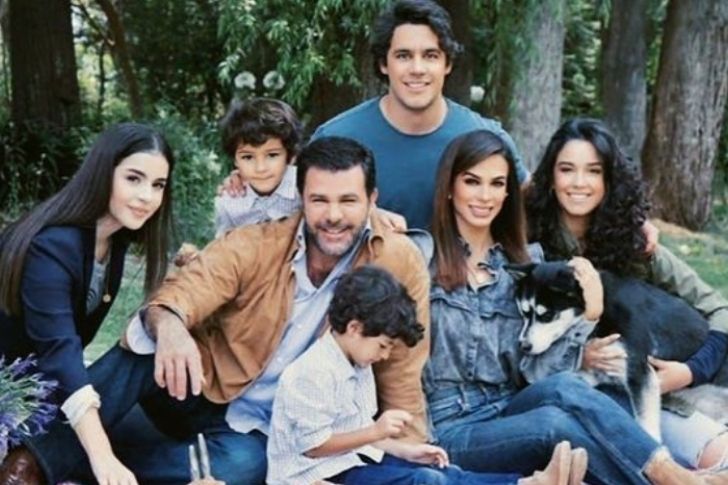 Bibi Gaytan is a famous Mexican actress and singer. As an actress, she has appeared in various film and television productions, and she also managed to receive a nomination for a Best Young Lead Actress. Today, Gaytan is already 49 years old, and she has been married to her husband, Eduardo Capetillo, for an astounding 28 years. During their 28 years of marriage, they have been able to welcome five children.
It's safe to say that Gaytan's kids play a role in the actress' decline in receiving and making television and film appearances. She certainly deserves credit for prioritizing her five adorable children. Gaytan's first three kids, Eduardo, Ana Paula, and Alejandra, are already in their teenage years. The remaining two, Manuel and Daniel, are twins and will be turning ten years old in a couple of years.
David Beckham – 4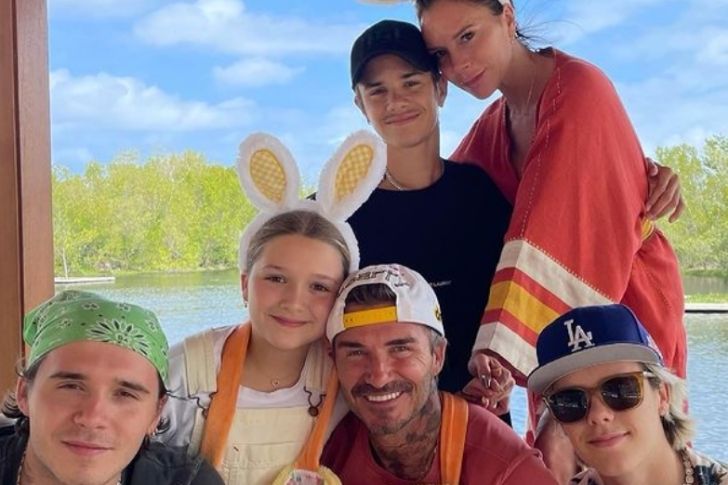 David Beckham is one of the most legendary football players to have ever played the sport. Besides football, David is also known for his relationship with former Spice Girls star Victoria Beckham. Interestingly, the two have been married for almost 22 years now, and during those 22 years, they have been able to welcome four children. You could say that their four kids have an incredibly bright future!
David and Victoria's eldest child is Brooklyn Beckham, and it's pretty evident that the eldest child inherited his parents' good looks. Next are Romeo and Cruz, who were born three years apart from each other. Last but definitely not the least is the only girl among the four kids, Harper. It's reasonable to expect Victoria and David to favor Harper over the other boys, but we've got to give them credit, as they raise all of their kids equally and with no favoritism.
Julio Iglesias – 9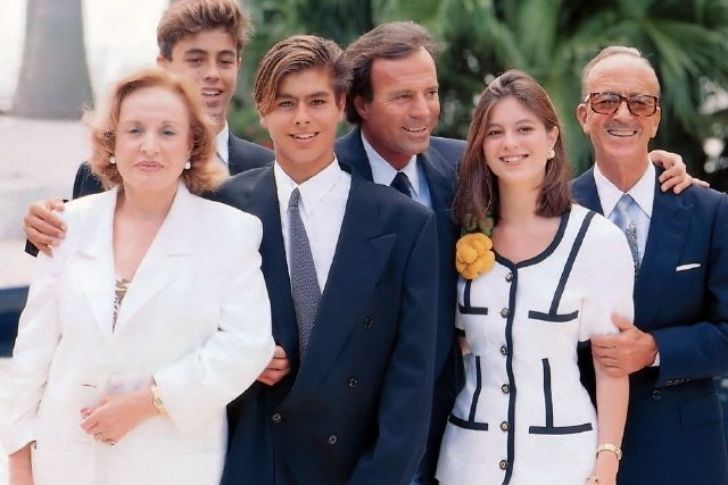 Julio Iglesias is an incredibly successful Spanish singer and songwriter. He's widely recognized as the most commercially successful European singer globally, and interestingly, he was also a former professional footballer. Julio can undoubtedly succeed in any platform he ventures out in, but who would've thought that he'd be a father to a whopping nine kids? Despite having many kids, we're pretty confident that he can pay for their needs with his surmountable net worth of $600 million.
As we said, this award-winning singer has a whopping nine children. Among Julio's nine children is Enrique Iglesias, who followed in his footsteps and became incredibly successful in music. Julio used to have eight kids, but it became nine due to the Spanish ruling that he was the "biological father" of a Spanish man named Javier Sanchez. Although Julio refused to give a DNA sample, the courts still ruled him the "biological father" due to the degree of physical resemblance between both men.
Robert De Niro – 6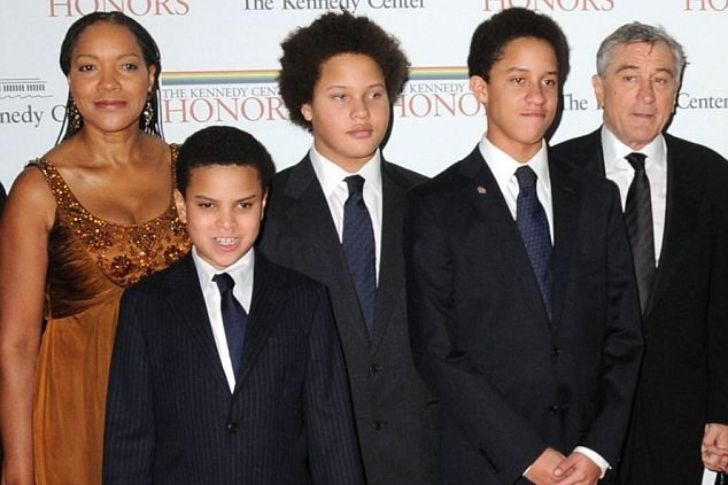 You could say that Robert De Niro is one of the most iconic and recognizable actors in Hollywood today. He's best known for his unmatched degree of success as an actor and several collaborations with renowned filmmaker Martin Scorsese. He's also managed to win several awards and accolades throughout his career. We know that De Niro is an award-winning actor, but who would've thought that he was a doting father to a whopping six children?
That's right, the star of the iconic film Taxi Driver is a loving father to his six kids. The eldest among the six is Drena De Niro, which is interestingly his stepdaughter. Raphael, Julian, and Aaron De Niro come after, and they are his kids from various partners throughout the years. The last two come from De Niro's relationship with Grace Hightower. Robert and Grace co-parents two kids together, Elliot and Grace.
Mick Jagger – 8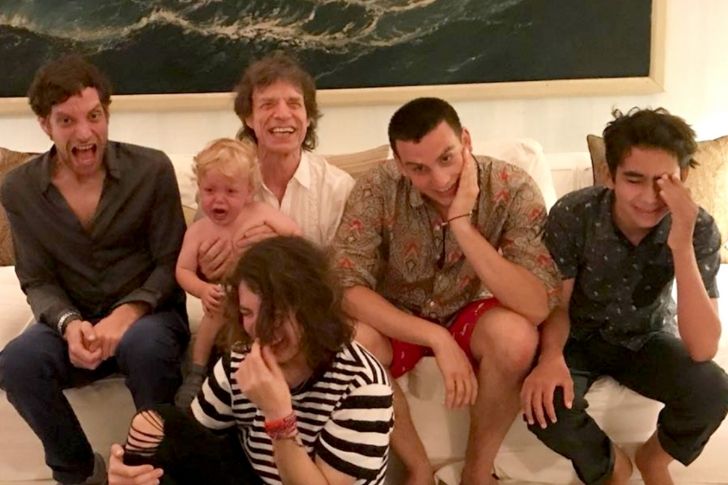 Widely recognized as one of the most prolific and influential musicians of the 20th century, Mick Jagger, frontman of the English rock band The Rolling Stones, cemented his name in cultural history with songs like (I Can't Get No) Satisfaction and Honky Tonk Women. The singer also received many credits for his contribution to the music industry. Over the course of his successful career, Jagger has had several relationships with actresses and models in the past, which brought forth a number of offspring.
In 1969, the singer first met actress-model Marsha Hunt in the photoshoot of one of the band's songs. A year later, Jagger's first child and daughter, Karis, was born. Now grown up, Karis starred in hit movies like The Rainmaker and produced a documentary shown on Netflix. Jagger then met Bianca, and the couple had a daughter named Jade, a model and jewelry and interior designer. Following his relationship with Bianca, the frontman fathered four children with actress Jerry Hall—Elizabeth, James, Georgia, and Gabriel. Their relationship came to an end after he met Brazilian model Luciana Gimenez, with whom he had his seventh kid, son Lucas. In the mid-2010s, Jagger dated Melanie Hamrick, and the couple shared a son, his eighth child, Deveraux Octavian Basil.
Kim Kardashian – 4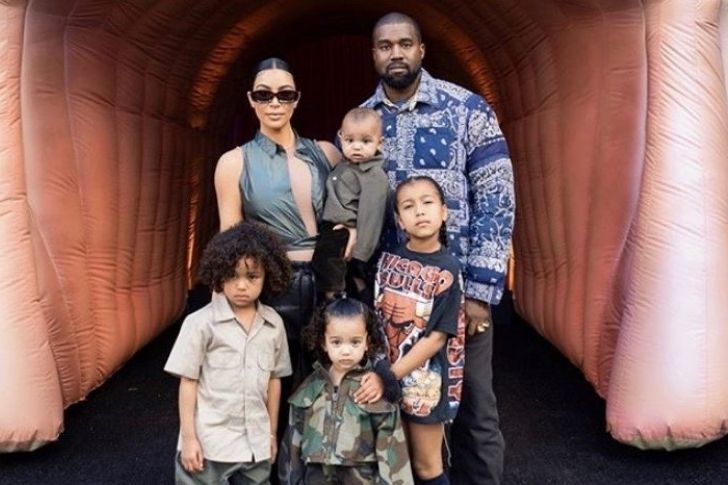 In the early 2000s, Kim Kardashian made her guest appearances as a friend and stylist of Paris Hilton in the television series The Simple Life. Shortly after, she opened the boutique DASH in California with her two sisters. Years later, together with her family, Kardashian began to appear in the television reality series Keeping Up with the Kardashians. From then onward, she achieved a considerable degree of success in the entertainment and business industry.
Meanwhile, Kardashian started dating rapper and longtime friend Kanye West in 2012, whom she married in Italy in 2014. The couple's first child and daughter, North, was born in 2013. In the following years, the celebrity couple welcomed three more offspring—Saint, 5, Chicago, 3, and Psalm, 2. Even at a very young age, their eldest has a net worth of $10 million, which made her one of the richest kids in America.
Kobe Bryant – 4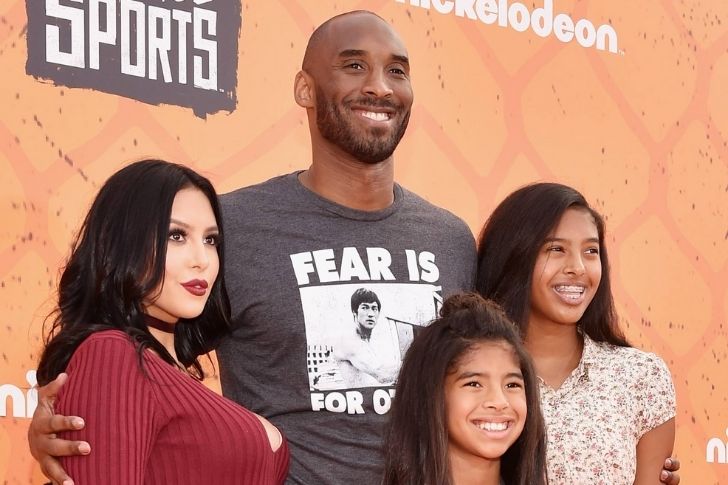 Widely praised as one of the greatest basketball players of all time, Kobe Bryant played his entire career with the Los Angeles Lakers for 20 years in the National Basketball Association. Throughout his career, the hoopster received credits for substantial accomplishments, including getting named as NBA Finals Most Valuable Player twice and inducted into the Naismith Hall of Fame posthumously. Bryant won five NBA championships and led the NBA scoring twice.
When the basketball superstar was 21, he met Vanessa Laine while she was working as a background dancer on a music video of Tha Eastsidaz. At the time, Bryant was in the building working on his debut album. Eventually, the two dated and later got married in 2001. Two years later, the couple's first child was born, Natalia Diamante. Today, she's 18 and recently signed a modeling contract with IMG Models. Their second child and daughter, Gianna Maria Onore, was born in 2006. Like her dad's alter-ego, she adopted the nickname "Mambacita" and played basketball for Mamba Sports Academy. The third daughter was born in 2016, named Bianka, and is 4 years of age, whom Bryant nicknamed "BB." And the couple's youngest daughter and child, Capri Kobe, was born in 2019. And again, her dad nicknamed her "Koko2," and she's 2 years old.
Stevie Wonder – 9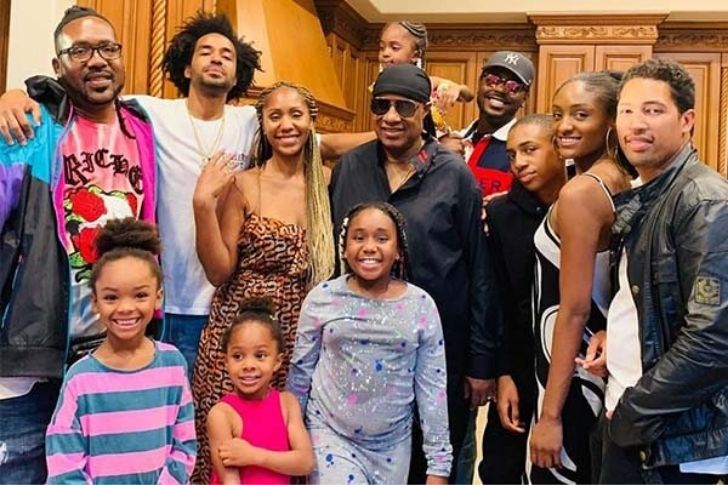 During the second half of the 20th century, Stevie Wonder was a prominent figure in popular music and one of the most successful musicians and songwriters. As a virtual one-man band, the singer changed the conventions of R&B during the 1970s through his use of electronic musical instruments and synthesizers. Hailed as a musical genius, Wonder received credits as a pioneer and influence on other musicians of various genres such as pop, soul, rhythm and blues, gospel, funk, and jazz.
Meanwhile, Wonder has fathered nine children during the course of his relationships with five women in the past and present, collectively. The singer has two children with Yolanda Simmons. His first child and daughter, Aisha Morris, 46, is a singer and songwriter just like her dad. Two years later, Wonder's son was born, Keita, 44, who's now a professional DJ. In 1983, he met Melody McCulley and had a son named Mumtaz Morris, 37, a talented R&B and Soul singer. Wonder then had a daughter, Sophia, 36, and a son, Kwame, 32, with a woman whose identity has not been publicly disclosed. With his second wife, Kai Millard, Wonder has two sons. The elder is Kailand, 19, occasionally performs as a drummer for his father, while the younger son, Mandla, 16, is a singer and fashion designer. He had his eighth and ninth children, Zaiah, 8, and Nia, 6, with his current wife, Tomeeka Robyn Bracy.
Mia Farrow – 14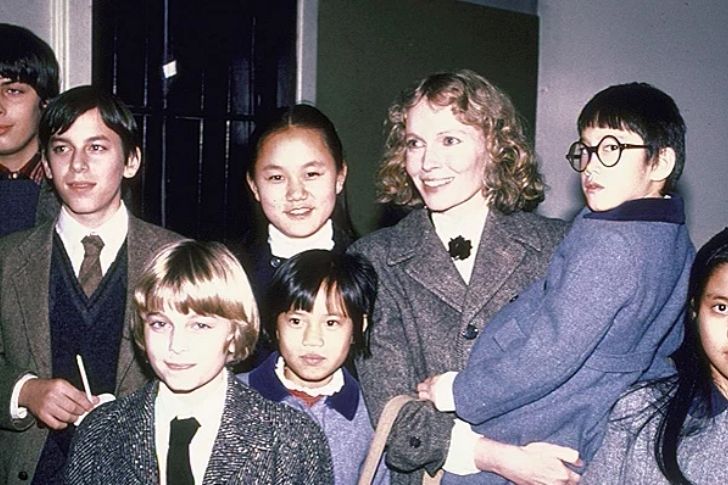 Aside from being an actress and a former model, Mia Farrow is also known for her extensive work as a Goodwill Ambassador for UNICEF and was named as one of the most influential people in the world by Time magazine in 2008. Early on in her career, she married the iconic singer Frank Sinatra in 1966, which lasted two years. Subsequently, in 1970, she married Andre Previn, a composer and conductor. Later that year, she gave birth to twin sons, Matthew, who graduated from Yale and Georgetown Law and now works as a lawyer in New York, while Sacha is currently a stay-at-home dad. With her then-husband, she also had Fletcher, who became chief information officer in IBM.
The couple adopted Vietnamese infants Lark Song and Summer "Daisy" Song, a construction manager in Brooklyn, followed by Soon-Yi from Korea. After Farrow's marriage to Previn ended, she began a relationship with Woody Allen and adopted another Korean infant named Moses, who's now working as a licensed family therapist. In 1985, Dylan was adopted. Farrow birthed her fourth and final biological child, Satchel, who currently works as an investigative reporter. Between 1992 and 1995, Farrow adopted five more children: Tam, Kaeli-Shea, Frankie-Minh, Isiah Justus, and Gabriel Wilk.
Justin Chambers – 5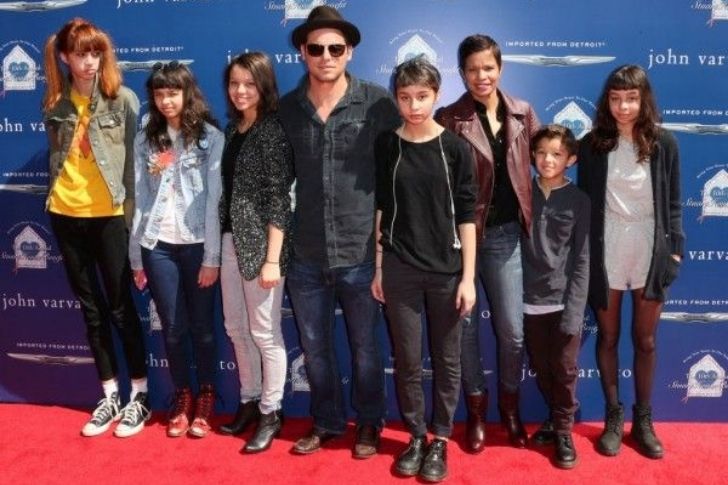 Justin Chambers is best known for his portrayal of Dr. Alex Karev in the television medical drama series Grey's Anatomy on ABC. At the beginning of his career, the actor worked as a model and represented big names in the fashion industry like Dolce & Gabbana, Calvin Klein, and Armani. In 1993, Chambers married Keisha Chambers, a former model agency booker, and they have five children together. The two met while the former model was working on ad campaigns for Calvin Klein.
In 1994, the couple's first child and daughter, Isabella, was born. Following in the footsteps of her father, she became known as an actress in the film Hygge in 2017. Three years later, the twins Maya and Kaila were born. Maya is known as a tap dancer and a tattoo artist, while Kaila has a passion for videography. In 1999, a fourth child was born, Eva. At present, she's a bass player in the band Pinky Pink. Three years later, the couple's youngest child, Jackson, was born. Credit to their father as most of the siblings have a passion for the arts.
Gordon Ramsay – 5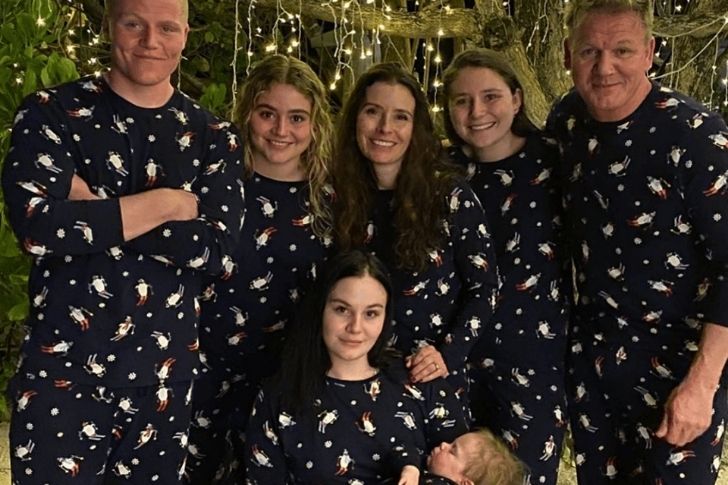 British chef, restaurateur, and television personality Gordon Ramsay rose to fame in the television miniseries Boiling Point in 1999. By 2004, he had become one of the most influential and known chefs in the United Kingdom. The chef founded his global restaurant group Gordon Ramsay Restaurants in 1997, and it received credits of 16 Michelin stars in total. For his contribution to the hospitality industry, Queen Elizabeth II appointed Ramsay Officer of the Order of the British Empire during the New Year Honours list for services in 2006.
In 1996, Ramsay married schoolteacher Cayetana Elizabeth Hutcheson, and the couple has five children. Their eldest, Megan, who is now 23 years of age, didn't follow in the footsteps of her dad as she had taken a psychology major and worked as an HR executive. At the moment, she's pursuing an internship with a travel company. Holly, who's now 21, is doing her bachelors in fashion designing at Ravensbourne University in London. The Ramsays' third child Jack, also 21, has successfully joined the Royal Marines of the United Kingdom. At 19, Matilda, fourth among the siblings, is a television presenter, chef, and social media influencer. Their youngest, Oscar, is two years old.
Clint Eastwood – 8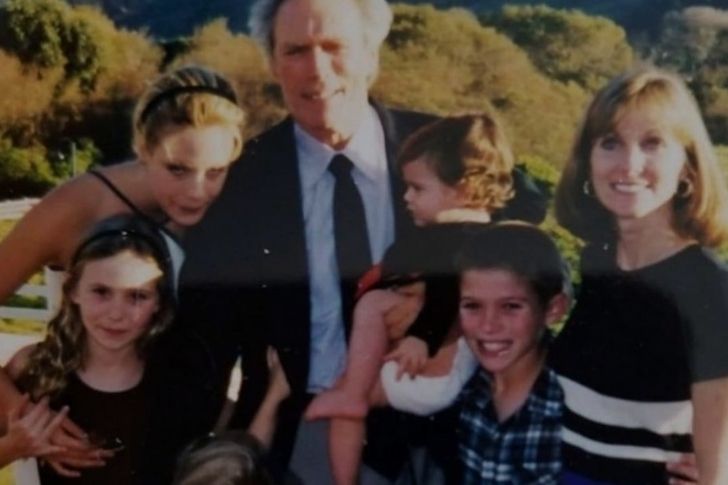 Dirty Harry star Clint Eastwood has been known as an actor and director of numerous successful films from the mid-1960s up to the present time. Over the years, he received several credits for his works, such as an AFI Lifetime Achievement Award, three Cesar Awards, four Golden Globe Awards, and four Academy Awards. As many as his awards, Eastwood also fathered several offspring. In total, he has eight children.
The eldest child and daughter, Laurie, began making appearances with her father on the red carpet after reuniting with Eastwood in her 30s. Kimber is the second among the siblings, and she's an actress and producer. Coming in third is Kyle, a musician who also contributed his music to his father's movies. Fourth is Alison, another successful actress, fashion designer, director, and producer. Just like his pop, Scott, fifth among the siblings, is a famous actor who starred in many hit films like Invictus and Pacific Rim Uprising. The sixth sibling, Kathryn, is also an actress, and so is the seventh child Francesca, who appeared in Fargo and Twin Peaks. Morgan, the youngest and eighth, loves to travel and appeared in their dad's movies at a young age, including Million Dollar Baby and Changeling.
Dwyane Wade – 5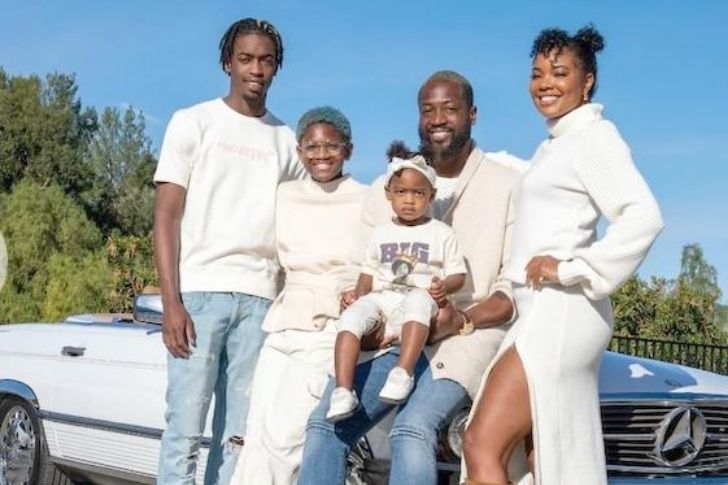 Having spent the majority of his 16-year professional basketball career with the Miami Heat, Dwyane Wade won three NBA championship titles and the Heat's all-time leader in all aspects of the game. In his first season, he helped and led the team to their first championship. For this, he received credits and was named the NBA Finals MVP in 2006. At the Olympics, Wade led the men's basketball team of the United States and helped them clinched the gold medal in 2008.
While the basketball superstar has four biological children, he also raised his nephew, Dahveon, as his own. In 2011, Wade was granted full custody of him, although his sister, Deanna Morris, holds parental rights. Zaire, 19, is the eldest child and son, while Zaya, 12, is the second child born to Wade and his former wife Siovaughn. In 2013, he welcomed his second son, Xavier Zechariah, with his ex-partner Aja Metoyer. After his marriage to actress Gabrielle Union, the couple welcomed their daughter Kaavia James in 2018.
John Legend – 2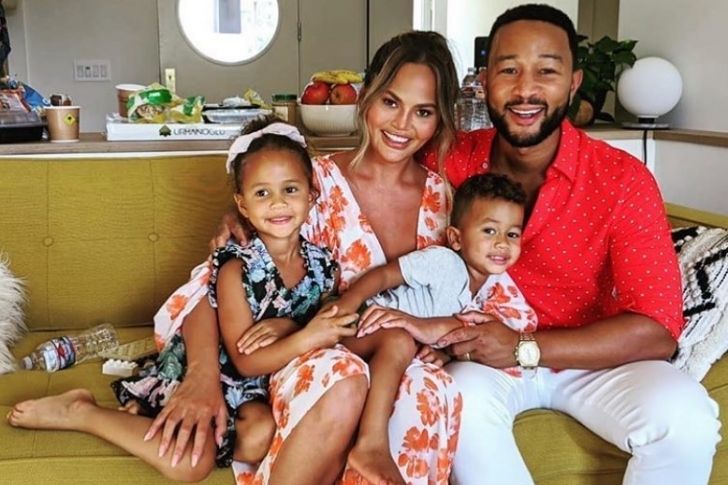 Even before releasing his debut album in 2004, John Legend collaborated with several successful artists in the industry, including Kanye West, Jay-Z, Alicia Keys, and Lauryn Hill. In 2007, he received the Hal David Starlight Award from the Songwriters Hall of Fame. Other credits he has also received are a Golden Globe Award and an Academy Award for co-writing Glory, the song for the film Selma. Upon the release of his fourth album, Love in the Future, his single All of Me became the number one hit song on the Billboard Hot 100.
The singer was also awarded a Tony Award for co-producing the Broadway production of Jitney in 2017. Since 2019, he has been featured as a judge on the reality competition series The Voice. In 2006, Legend married model Chrissy Teigen and the couple had two children. The eldest of the brood is Luna, 5, named after her mom's love of space, while Miles, 3, was named after the famous jazz trumpeter Miles Davis.
Idris Elba – 2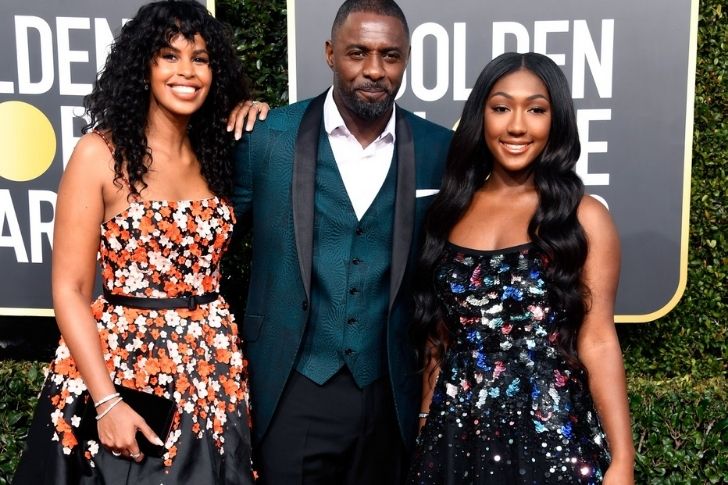 Idris Elba is known for his roles in the television series The Wire, Luther, and Mandela: Long Walk to Freedom. Some of the hit films he appeared in were American Gangster, Thor, Avengers: Infinity War, and Pacific Rim, among many, as well as voicing various characters in the animation films like The Jungle Book, Finding Dory, and Zootopia. Over the years, the actor has received credits for his works, including a Golden Globe Award, and was named among the most influential people in the world by Time magazine in 2016.
As of 2019, Elba's films have grossed over $9.8 billion at the box office globally, with $3.6 billion in North America, where he is among the top-grossing actors. There's another role that he is good at: being a father. In 2002, the actor's eldest child, Isan, was born. Though she grew up largely out of the spotlight when her parents split up, Isan, now 19, is still very close to her famous dad and has made a number of red carpet appearances with him. Winston, on the other hand, is the second and youngest child of Elba, with whom he shares with ex-partner Naiyana Garth.
Will Smith – 3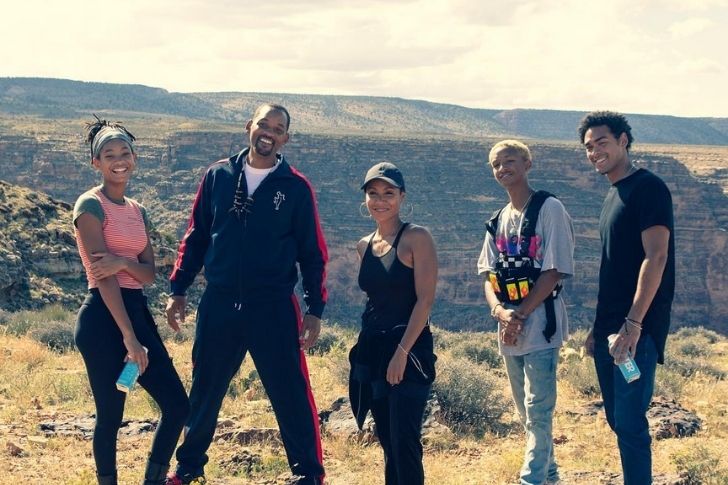 American actor and singer Will Smith rose to popularity quite rapidly when he starred in the television series The Fresh Prince of Bel-Air on NBC network, which aired for six seasons until 1996. Shortly after, he transitioned into big-screen films and starred in Independence Day and Men in Black, both of which were box-office hits and furthered his stardom globally. He is the only actor who starred in eight consecutive films that grossed over $100 million in the box office of the United States, eight consecutive films which opened in the US box office at the number one spot, and 11 consecutive films which grossed $150 million internationally.
Smith has received numerous credits for all his works. Newsweek magazine cited him as the most powerful actor in Hollywood in 2007, while Forbes magazine ranked him as the most bankable star globally. Smith married Sheree Zampino in 1992 and had a son together named Willard Carroll "Trey" Smith III. Trey is now 28 and pursuing a career in music and entertainment. Smith married again in 1997 to actress Jada Koren Pinkett, and the couple had two children, Jaden Christopher Syre and Willow Camille Reign.
Jason Momoa – 2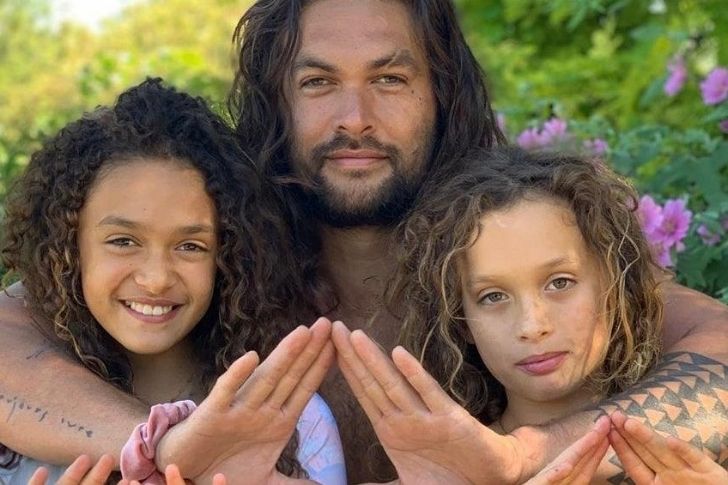 Jason Momoa made his acting debut as Jason Loane in the television series Baywatch: Hawaii, which was followed by his role as Ronon Dex in the sci-fi series Stargate Atlantis. As his career began to flourish, he starred in HBO's fantasy drama series Games of Thrones, in the Apple TV+ sci-fi series See, and on the Discovery Channel's drama series Frontier, in which he was featured as the lead role in two latter series. In big-screen films, Momoa has played the character of Aquaman and Arthur Curry in the DC Extended Universe since 2016. In 2021, the actor will play Duncan Idaho in the film adaptation of the science fiction novel Dune.
Over the years, Momoa has attained a considerable degree of success in the entertainment industry. Momoa married actress Lisa Bonet in 2005. Two years after, the couple welcomed their first child, daughter Lola, who is now 13 years old. The following year, their son, Nakoa-Wolf, was born.
Chris Hemsworth – 3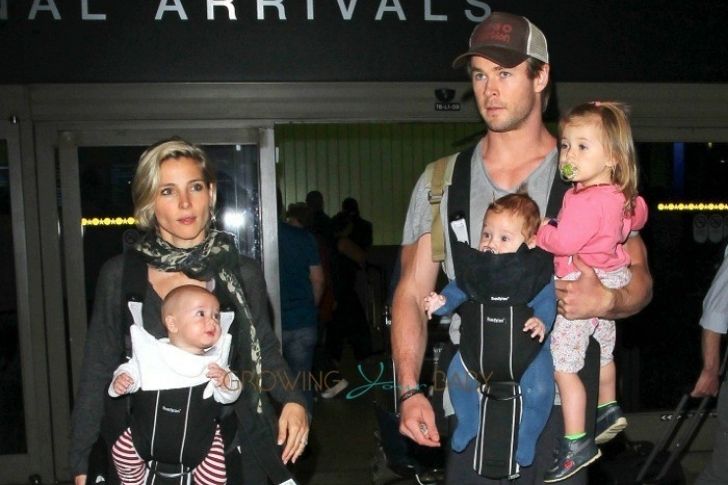 Famously known for portraying the character of Thor in the Marvel Cinematic Universe films, Chris Hemsworth first gained prominence in the Australian television series Home and Away as Kim Hyde. Soon after, he began to venture into a career in Hollywood. In 2011, he was cast as the hammer-wielding superhero in the film Thor, which was his first movie with the franchise. The film received worldwide success and positive reviews. The following year, he reprised his role for the film The Avengers as one of the six superheroes. Once again, the film was a box-office hit globally, and Hemsworth, along with the cast, received credits for a wonderful movie.
From then on, the actor has established himself in the entertainment industry as one of the best actors around, and he went on to star in several other movies. In 2010, Hemsworth married actress Elsa Pataky, and the couple had three children: daughter India Rose, 9, and sons Sasha and Tristan, both 7.
Ryan Reynolds – 3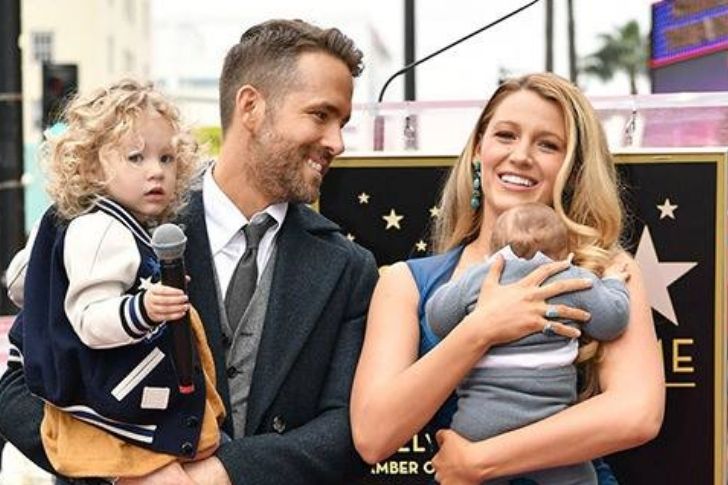 Ryan Reynolds began his career in the Canadian soap opera Hillside and had minor roles before landing his lead role in the sitcom Two Guys and a Girl. Later on, he starred in comedy films such as National Lampoon's Van Wilder, The Proposal, and Waiting…, as well as dramatic roles in Life, Woman in Gold, and Buried. In 2016, Reynolds landed his biggest commercially successful film in Deadpool and its sequel.
At the time of its release, the actor set several records for an R-rated comedy, for which he received credits and earned nominations for a Golden Globe Award and Critic's Choice Award. In 2017, he was given a star on Hollywood's Walk of Fame. He also has business ventures, having acquired stakes in Aviation American Gin and Mint Mobile. In 2012, Reynolds married actress Blake Lively, and the couple has three lovely daughters: James, Inez, and Betty.
Jimmy Fallon – 2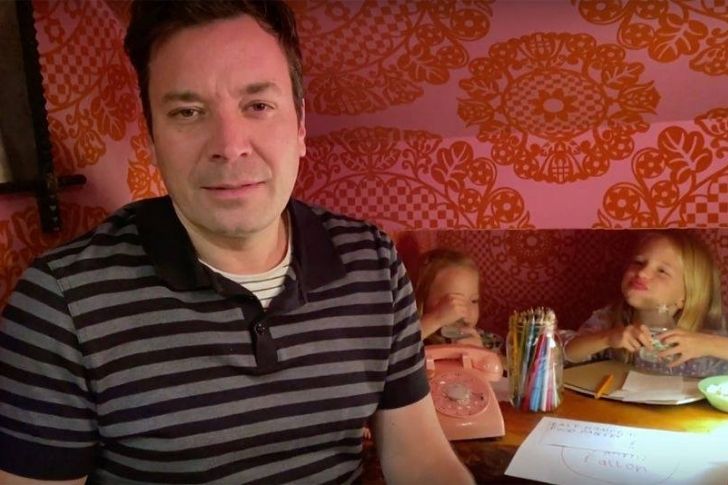 Born James Thomas Fallon, Jimmy Fallon is a prominent comedian, actor, TV host, writer, singer, and producer—the jack of all trades. He rose to fame as a cast member on Saturday Night Live before becoming the face of talk show The Tonight Show With Jimmy Fallon.
Despite and in spite of the ongoing crisis worldwide, Jimmy Fallon has used YouTube as a means to reach his fans. This convenience resulted in the involvement of his two adorable daughters, Frances and Winnie, respectively. It goes without saying that his wife, Nancy Juvonen, who takes credit for producing several movies, is a big part of making the daily installments of The Tonight Show: Home Edition possible. Fallon keeps his private life away from the media's attention as much as possible, but this newly revealed part of his life melted his fans' hearts.
Neil Patrick Harris – 2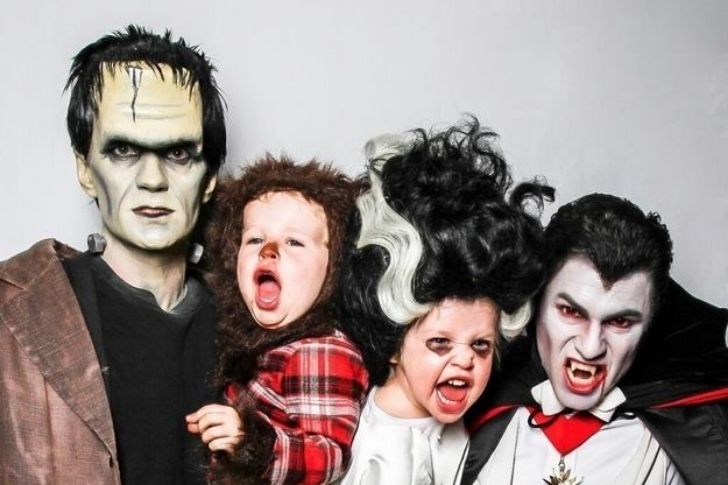 Neil Patrick Harris was already a familiar face on TV before he reached his 20s. He started in Clara's Heart where he co-starred with Whoopi Goldberg. The following year, he portrayed the lead character in the sitcom Doogie Howser, M.D for four seasons. His natural skill would later land him roles in films and on stage such as in Rent and Cabaret. Harris' takes credit for portraying Barney Stinson on How I Met Your Mother.
Recently, the actor and his husband David Burtka celebrated their 17th year of being committed to each other. The How I Met Your Mother posted a selfie alongside Burtka on his Instagram account. The couple got married in September 2014 and share adorable 10-year-old twins Gideon Scott and Harper Grace. The actor also got his kids an adorable new puppy, Ella, for Christmas. It goes without saying that the kids loved their newest family member.
Stephen Colbert – 3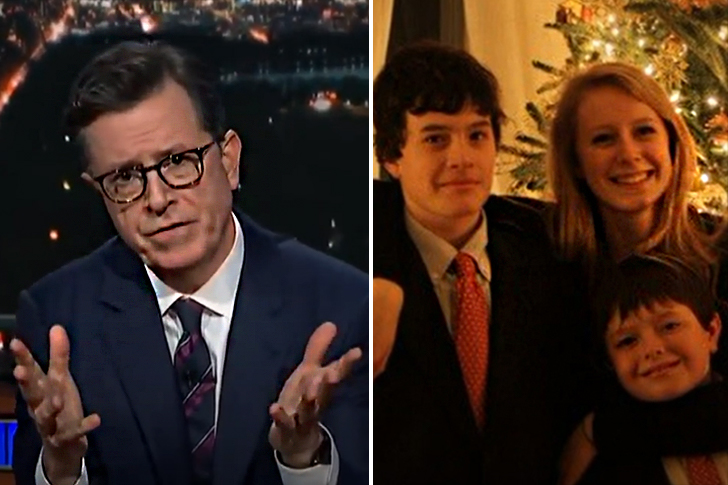 Stephen Colbert is literally the face of The Colbert Report which started in 2005. His success began to materialize when he joined the comedy troupe Chicago's Second City, where he met comedians Paul Dinello and Amy Sedaris. The trio were cast in Exit 57 and Strangers with Candy. Before The Colbert Report, Colbert was a correspondent in The Daily Show. He would later work as a host of CBS' The Late Show.
In 1993, Colbert married Evelyn McGee, who takes credit for a role in Strangers with Candy. Their marriage is one of the longest lasting relationships that have ever come to public attention. They became parents to three wonderful kids: Madeleine in 1995, Peter in 1998, and John in 2002. Recently, the host has been filming from home. In an interview, Colbert emphasized the beauty of having to communicate with his children regularly: it's not dramatic, it doesn't seem exciting, but it's probably the nicest part of it.
John Krasinski – 2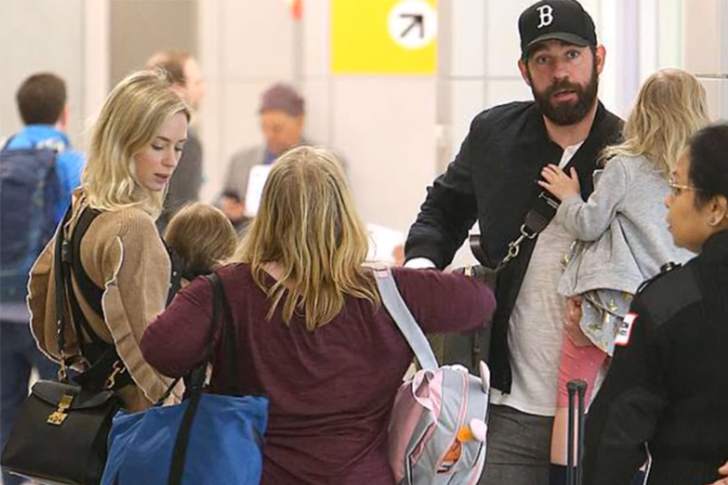 If you're a fan of The Office, then you would probably know John Krasinki, the person who portrayed Jim Halpert. His brilliant acting landed him bigger roles in films such as License to Wed and Letherheads. Aside from doing great on-screen, the actor is equally good off-screen; as a director, he takes credit for Brief Interviews with Hideous Men, The Hollars, and A Quiet Place.
The actor-director married Emily Blunt in 2010 and they have two daughters, Hazel and Violet. They have a proclivity to keep their kids away from the spotlight but that does not mean that they aren't proud of them. This is just their way of giving them a normal life as much as possible. In an episode of Saturday Night Live, Krasinski wore a sweater with "H+V" written in white as he ended the show. It was later revealed by his stylist that these are the initials of his daughters' names.
Anderson Cooper – 1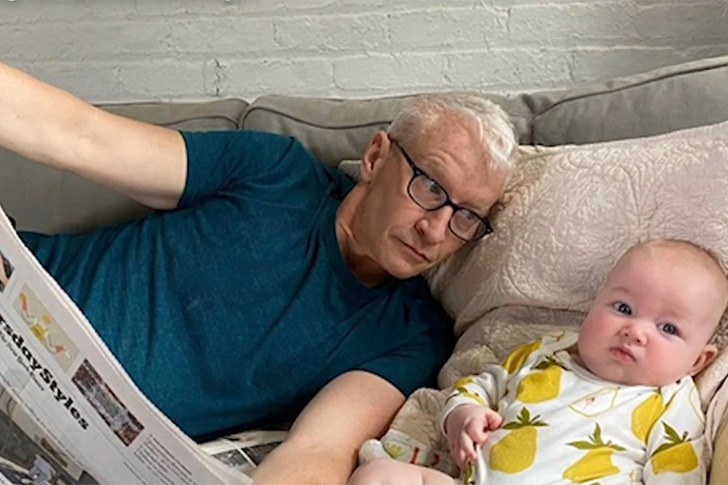 Anderson Cooper is a descendant of the famous businessman Cornelius Vanderbilt. In college, he acquired a degree in political science from the prestigious Yale University before he secured a career in journalism. Later on, he worked as a correspondent for ABS News and subsequently became an anchor on CNN after a few years. In 2003, Cooper started reporting news from his own program, Anderson Cooper 360°, and became the face of CNN's yearly New Year's Eve Live.
Just last year, as Cooper signed off from CNN on a Thursday night, he shared to viewers that he had become a father to Wyatt Morgan Cooper. He named his son after his father, who passed away before he became a teenager. In an Instagram post, it seems that the anchor could not contain his joy as he talked about holding onto moments of joy and happiness.
Denzel Washington – 4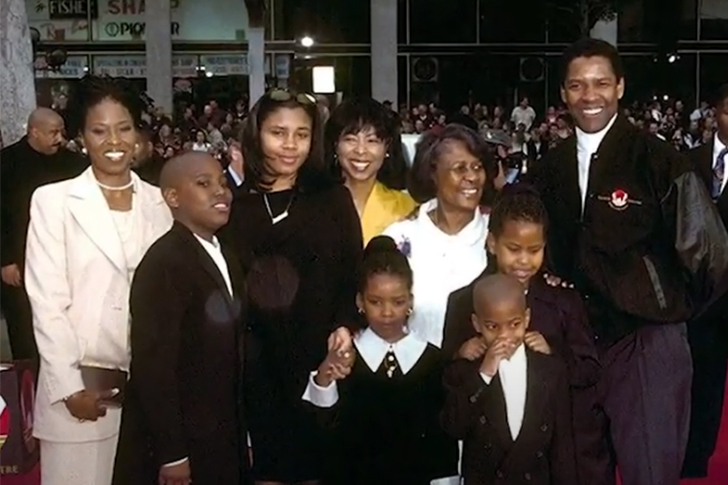 Denzel Washington originally wanted to acquire a degree in journalism at Fordham University but then found out that he had a proclivity for acting. He entered the word of film by debuting in A Carbon Copy and appearing later on St. Elsewhere, a hit TV medical series. Washington continued to appear in big movies such as Philadelphia, Man on Fire, The Book of Eli, American Gangster and Flight. He bagged Oscars for his role in Glory and Training Day. In 2016, he was nominated for an Oscar for his role in Fences and Roman J. Israel, Esq.
He is often remembered for being one of Hollywood's most successful actors, but the star often finds more meaning in being a husband to Pauletta and a father to his kids: John, Katia, Malcolm and Olivia. It is worth noting that the actor had a great influence in his children, as all of them have ties to the film industry,
James Corden – 3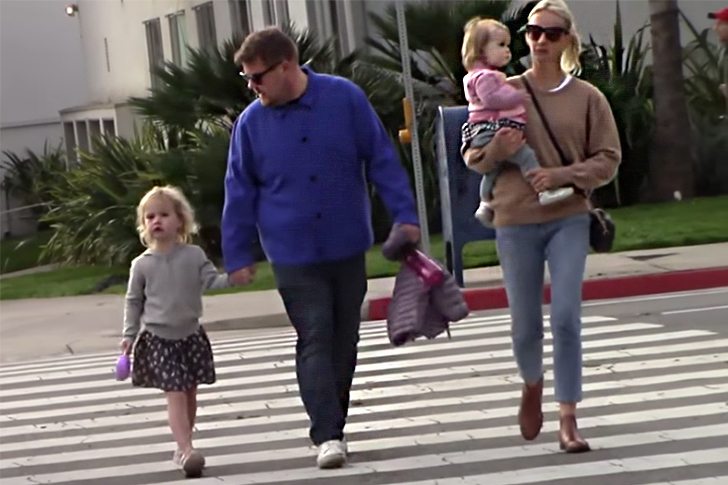 At the young age of 17 years old, James Corden had already been memorizing lines and acting on the London Stage. He is well-praised for his performance on the play The History Boys and would later take credit for the famous sitcom Gavin and Stacey. With sufficient experience as a performer, Corden's performance in One Man and Two Guvnors earned him Olivier and Tony Awards. In 2015, he penetrated American television by hosting The Late Late Show. The talk show is famous for its "Carpool Karaoke" segment.
Corden tied the knot with TV producer Julia Carey in 2012. Since then, the couple had been busy being parents to Max, 9, Carey, 6, and Charlotte, 2. Their family currently resides in Los Angeles where the host continues filming for The Late Late Show. Corden had also expressed joy in being a homeschool teacher to his children.
Jimmy Kimmel – 4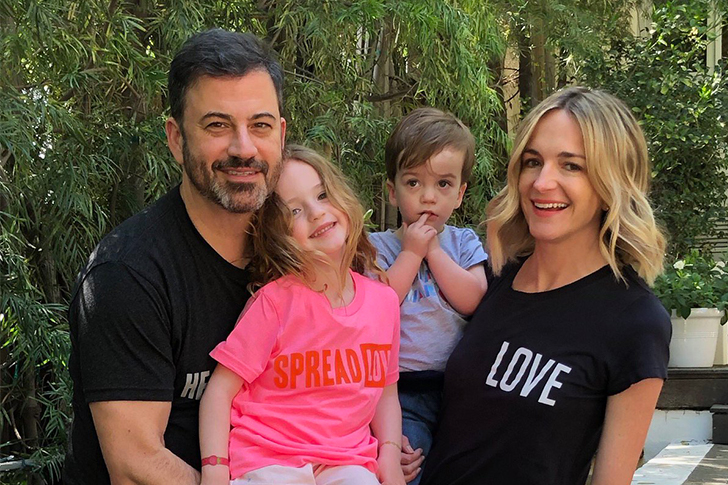 Jimmy Kimmel used to work for a radio station back in 1997 before he transitioned as a TV host in the game show Win Ben Stein's Money. In the subsequent years, he started a production company named Jackhole Industries. With a lot of engaging shows under his leadership, ABC sniffed his potential as a late-night host. When 2003 came, Jimmy Kimmel Live! pervaded American television and takes credit for being ABC's longest-running late night talk show.
Aside from taking credit for being an exceptional host, Kimmel is defined by something more meaningful: being a father to Kevin, Katie, Jane, and William. It's obvious how the comedian is drawn to children as apparent in many segments from his show. Kimmel married co-head writer, Molly McNearney, in July 2013, and welcomed Jane in 2014 and William in 2017. It is worth noting that Kevin and Katie's mother was Gina Maddy, the host's college sweetheart.
Matthew McConaughey – 3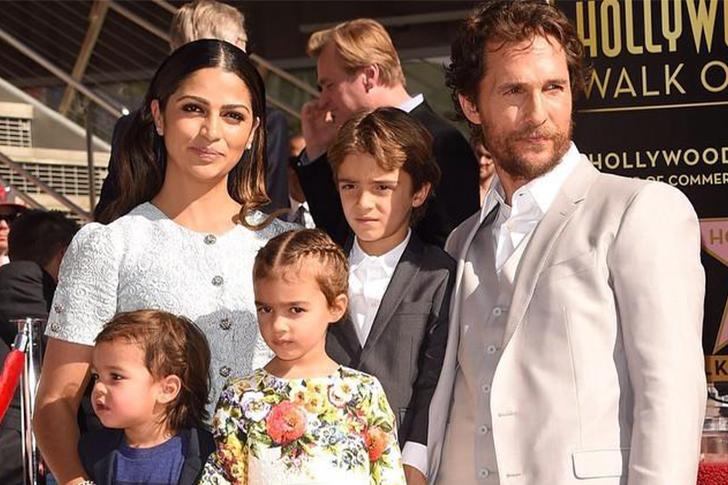 Matthew McConaughey got his breakthrough in 1993 for starring in Dazed and Confused. Subsequently, he was casted in A Time to Kill in 1996 and Amistad the year after. In 2005, he was labelled People magazine's Sexiest Man Alive. Aside from his chiseled good looks, his acting skills are also notable. McConaughey takes credit for an Academy Award win for Best Actor for his performance in Mud and Dallas Buyers Club. In 2014, his role on True Detective plunged his fame even farther.
In 2012, McConaughey married model Camila Alves and they have three beautiful children together: Levi in 2008, Vida in 2010, and Livingston in 2012. In a recent Instagram post, Camilla posted a photo of the children acting as their father's photographer for his magazine covers. The children have been spending more time with their famous father and are clearly thrilled about it.
Mark Consuelos – 3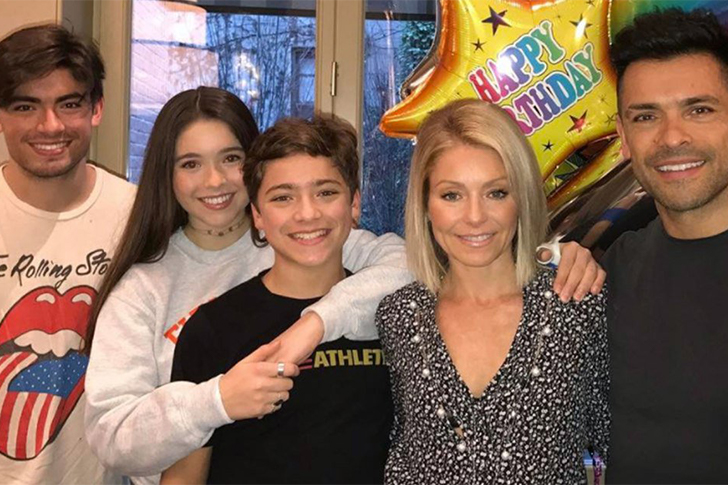 Mark Consuelos takes credit for his 1995 role as Mateo in the soap opera All My Children until 2010. After the aforementioned series, he starred in My Super Ex-Girlfriend and American Horror: Asylum and had appearances on TV with his wife as a co-host on Live! with Kelly and a panelist on the Oprah Winfrey Show. His most recent role was on the CW's Riverdale.
It is worth noting that Consuelos met his wife, Kelly Ripa, on the set of All My Children. They tied the knot in May 1996 and have been going strong for almost two decades. The couple are parents to three wonderful children: Michael Joseph, Lola Grace, and Joaquin Antonio. It is worth noting that Michael Joseph, their eldest, is following his parents' acting footsteps. Lola joined Regis Philbin on Live in 2000. Joaquin, on the other hand, is enjoying most of his parents' attention since he is the youngest.
Jeff Goldblum – 2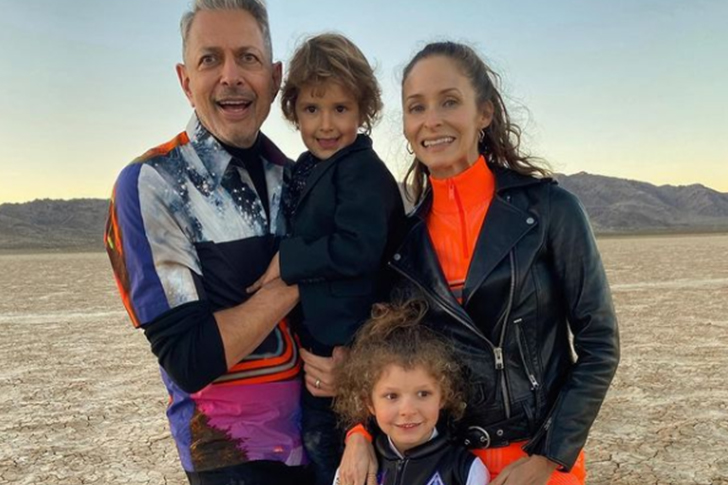 Jeff Goldblum learned acting together with his contemporary, Sanford Meisner, before pursuing a career on the big screen. He takes credit for starring in big films such as The Fly, Jurassic Park, Independence Day and Morning Glory. Aside from appearances on-screen, Goldblum is also a noteworthy stage and television actor. He was cast in Law & Order: Criminal Intent, which ran from 2009 to 2010. His most recent work was in Thor: Ragnarok and Jurassic World: Fallen Kingdom.
Recently, the actor and his wife, Emilie Livingston, celebrated Mother's Day with their two sons Charlie and River. The family dined in a restaurant in Los Angeles on the night of May 8th. This is quite a rare sight since the actor prefers to stay low-key when it comes to family. In a previous interview, Goldblum never thought that he'd become a father. However, when he met his wife, he realized that he wanted it more than anything.
Stephen Curry – 3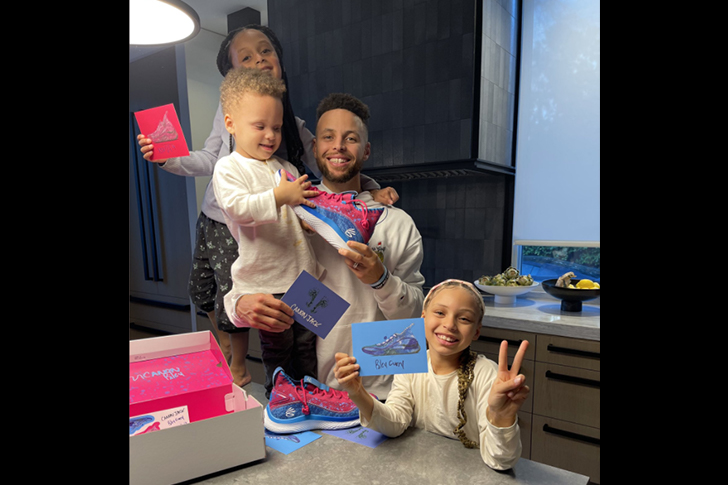 Stephen Curry is a pro basketball player for the Golden State Warriors. He drew the attention of scouts for his exceptional plays at Davidson College. He got the world's attention in 2009 when he was drafted by Golden State and rose to fame for his impressive shooting skills. Curry's most notable achievements is garnering Most Valuable Player and leading the Warriors to win the 2015 Championship. A year after, he was named the first person to be named MVP unanimously and one of 11 to have won the MVP award two years in a row.
As much as Curry takes credit for being one of basketball's best, he is also known to be the ultimate father to Riley, Ryan, and Canon. In 2019, the athlete and his wife Ayesha went to the premiere of The Lion King with their daughters. They have also been spotted vacationing on a beach in Hawaii.
Evan Ross – 2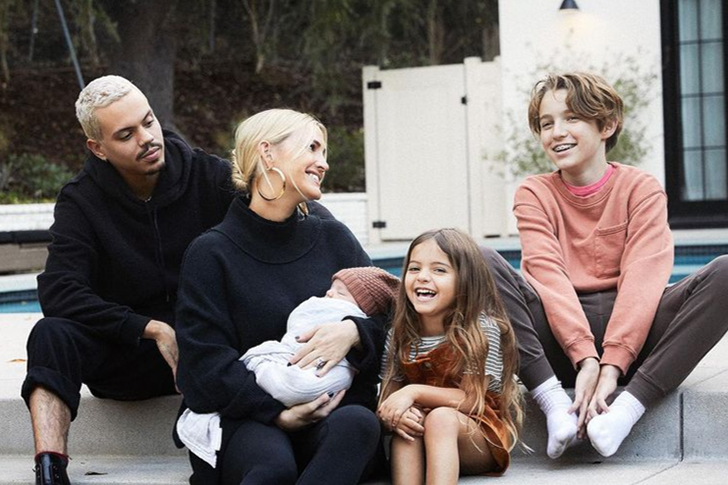 Born Evan Olav Ross, Evan Ross is a prominent actor who had debuted in ATL. He rose to fame for his roles in films such as Life Support, Pride, According to Greta, Mooz-lum, 96 Minutes, and All The Wilderness. Ross also takes credit for appearing in TV shows such as 90210 and Wicked City. His most recognized role was his portrayal of Messalla in The Hunger Games: Mockingjay. It is worth noting that, being Diana Ross' son, he inherited his mother's singing prowess. In fact, he has released a couple of singles such as Yes Me and How To Live Alone.
In 2020, Ross and his wife, Ashlee Simpson welcomed their second child, Ziggy Blu, in a social media post. Ziggy is fast asleep in the photo and wrapped around a brown blanket as his parents' hands rest on his chest. It is worth noting that Jagger Snow, Ziggy's older sister, is quite fond of her little brother.
Billy Ray Cyrus – 6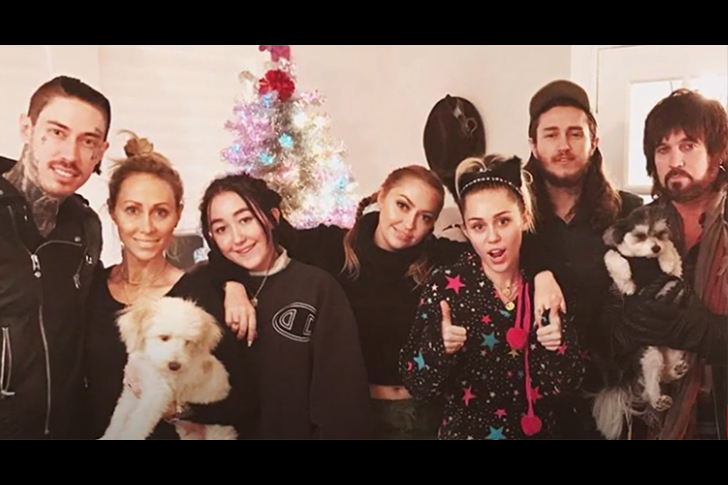 Billy Ray Cyrus is a famous singer-songwriter and actor. Before taking credit for his first successful album, the singer had undergone a maelstrom of struggles and rejections. With enough persistence, he had made it to the top. As a student, he originally planned to set out as a baseball player. However, after he started learning how to play the guitar at the age of 20, he dropped out from college to pursue music. His skills were first noticed by country singer Reba McEntire, who helped him get his first recording contract. After his glory days in singing, he eventually shifted his sights to acting and starred in the TV show Doc.
Aside from the famous Miley Cyrus, it is worth noting that the Achy Breaky Heart singer has five other children: Christopher Cody, Miley Ray, Braison Chance, Noah Lindsey, Trace Dempsey, and Brandi. All of his kids followed in their father's footsteps and pursued careers in the music industry.
Daniel Day-Lewis – 3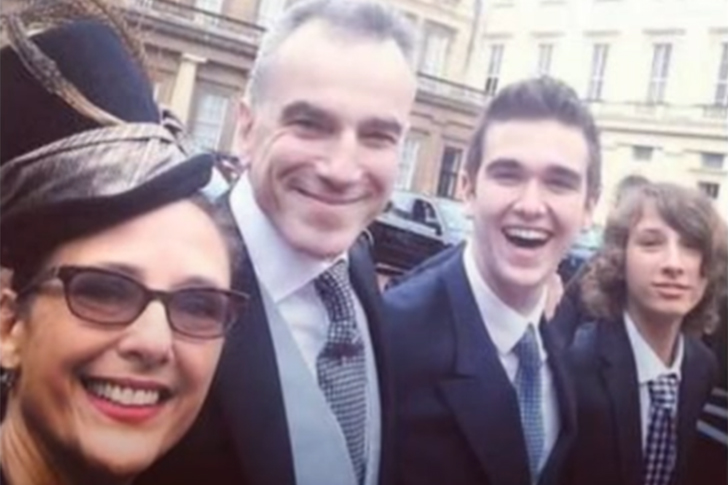 Daniel Day-Lewis acquired a degree in acting at Bristol Old Vic before he debuted in the film Sunday, Bloody Sunday. The actor got numerous praises for his acting in My Beautiful Laundrette. Daniel also won Academy Awards for My Left Foot, There Will Be Blood and Lincoln. It is worth noting that Day-Lewis married filmmaker Rebecca Miller back in 1996.
Before his retirement in 2017, the actor was foreseen to have another potential Oscar for his role in Phantom Thread. Despite his level of fame, he is notoriously private about his personal life. Day-Lewis has two sons with Rebecca Miller: Gabriel-Kane and Ronan Cal Day-Lewis. Gabriel-Kane is currently a model who had inherited his parents' best facial features, having modeled for big brands like Chanel. Ronan Cal, on the other hand, is a multimedia artist who recently graduated from Yale University.
Lil Wayne – 4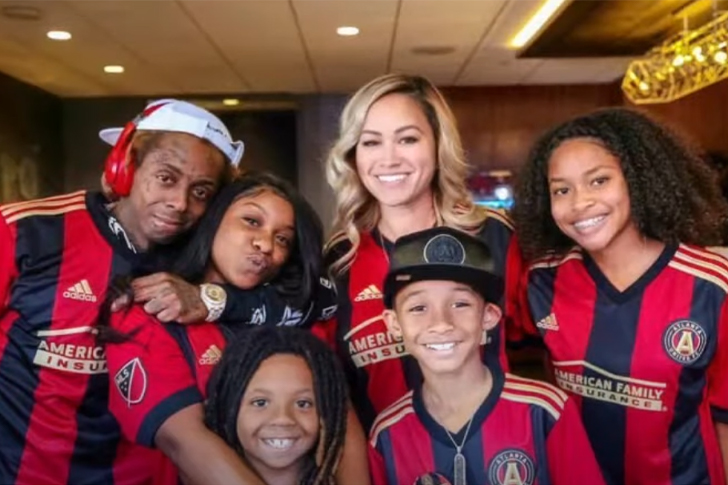 Lil Wayne is often given credit for being amongst the most influential hip hop artists of his generation. His well-founded esteem is backed by millions and millions of sold records worldwide as well as winning five Grammy Awards. He began his career at the early age of 12 and rose to prominence in the music industry in the 2000s.
Today, the rapper is 38 years old. Outside of the music scene, he is known by family and friends as Dwayne Michael Carter Jr. He has been with several partners through the years and has been married twice, most recently to Denise Bidot, early this year. Moreover, Lil Wayne has four children. He had his eldest when he was only 16. His daughter, Reginae, is now 22 years old with a budding career, slowly making a name for herself in the TV industry. He has three other children: Dwayne Michael Carter III, Cameron Carter, and Neal Carter. They are just about to enter their teenage years. Although each of his children may have different mothers, they surely have a supporting father.
Pierce Brosnan – 5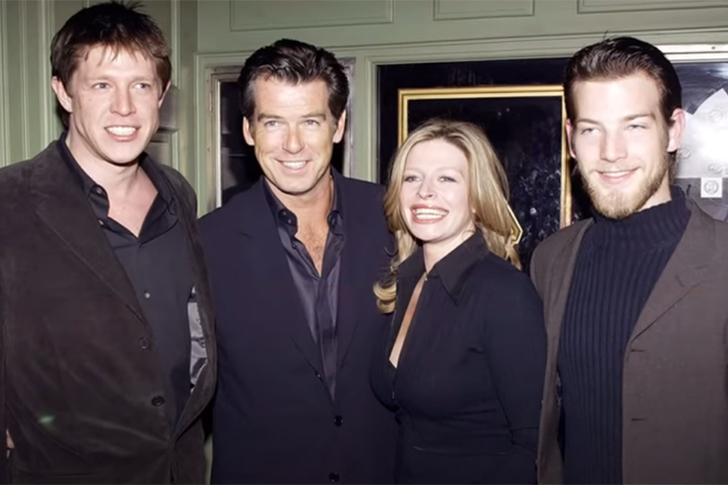 Pierce Brosnan has been given much praise and credit for being the fifth actor to fill in the shoes of the legendary British spy James Bond. As much fortune and fame the franchise brought to the Irish actor, it would be all for nothing if he didn't have the love and support of his family.
Brosnan has been married to Keely Shaye Smith since 2001 and he has five children, three biological and two adopted. His eldest biological son, Sean, is 37 years old and is also a veteran of the Hollywood industry as both an actor and a filmmaker. The actor's eldest adopted daughter Charlotte also followed in his footstep, but sadly passed away at the age of 41. His other adopted son Christopher is also a filmmaker but doesn't have a good relationship with him. The last two children on the list are with his current wife. Dylan and Paris are slowly coming to their own in the entertainment industry as well and have both delved in the modeling and plan to become actors.
LeBron James – 3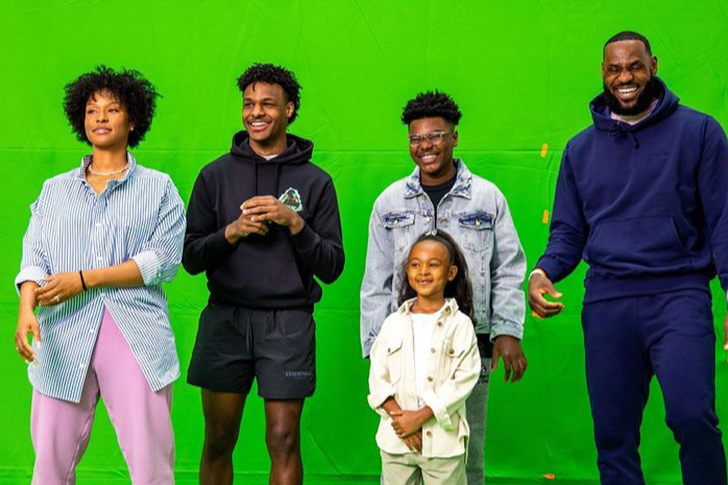 LeBron James is considered to be amongst the greatest players in basketball. As early as his high school years, he was lauded by sports journalists and was one of the most anticipated rookies of his generation. To his credit, he did not disappoint and to this day, he is arguably the best player in the NBA.
Today, the star player of the LA Lakers is 36 years old and entering the senior years of his career. However, he might find solace in that his sons are slowly following in his footsteps. James married his high school sweetheart, Savannah Brinson, back in 2013. Together they have three children. LeBron James Jr. or Bronny is their eldest and is currently a sophomore at Sierra Canyon High School. He has surely inherited some of his father's talents and is making waves amongst the basketball scouts. Their second child, Bryce Maximus is also a basketball varsity and is currently a freshman. The youngest is Zhuri, who is slowly garnering success as a social media star doing TikTok videos as well as having a presence on YouTube.
Tim McGraw – 3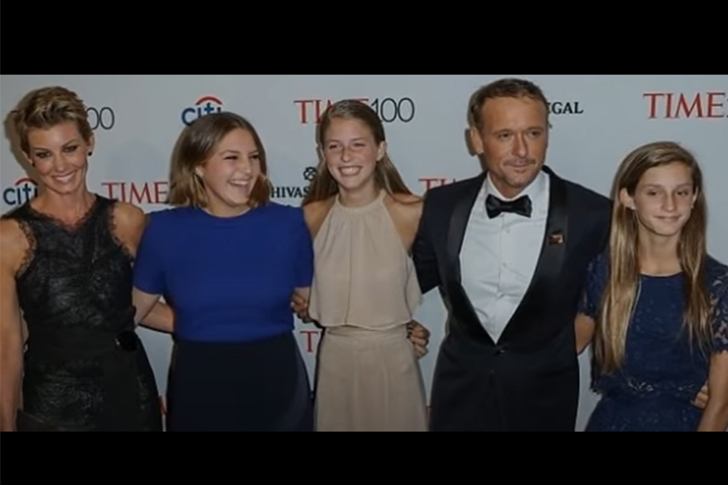 Tim McGraw is a prominent country musician. In a span of 16 studio albums, he has sold millions of records worldwide and has won three Grammy Awards and ten American Music Awards to his credit. In 1996, his ever-growing success in the country genre was catapulted when he married the equally talented and famous country singer Faith Hill. Together they rose to the top of the industry and have been amongst the biggest figures in country music.
The couple has three daughters: Gracie, Maggie, and Audrey. Throughout their years in the limelight, their daughter makes the occasional public appearance, but the loving parents are truly proud that the three have now grown up. Their youngest, Audrey, recently graduated high school and is now well on her way to college. The other two have shown interest in becoming musicians themselves. In 2015, Gracie performed on stage with her father and played in a band during her high school years. If ever she does decide to make a career out of it, we might see more of her talent on stage with her parents in the near future.
You've Reached The End